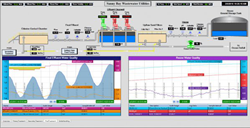 When company margins are tight, the Canary Labs software tools show the inefficiencies, production and operating costs, and other KPI's to better understand the manufacturing process.
Martinsburg, Pennsylvania (PRWEB) October 14, 2015
Canary Labs announces the latest release (Version 11) for the Enterprise Historian and Axiom product lines. This version builds on Canary Labs' performance and scalability standards to increase reliability and security enhancements. These products are ideal for all applications that require consistent data collection, storage and presentation of continuous time-series data. As the value of historical and real-time data is realized, users gain great returns on this software investment. Users make decisions using real data to increase process efficiencies and find cost reductions while troubleshooting. Data can also be used to verify that assets are running at peak performance or are in compliance with environmental and DOT requirements.
This version combines the administrator functions into one centralized application for easy access and control of Canary Labs' products across many machines throughout the network. In order to avoid data loss, notification tools are included that contact the correct people if applications are inadvertently shutdown. Store and forward tools are also supplied with the ability to see where and how the data is flowing through the networks along with monitoring the health and performance of the computers running the Canary applications.
Canary Labs has also introduced AxiomView to add to the current AxiomTrend applications. AxiomView lets users display critical information and key performance indicators (KPIs) in real-time, alerting operators when critical values change. Viewing trend charts, graphs, gauges, and graphic symbols is easy with the Canary Labs' AxiomView and designer products. The graphics can be displayed in either a desktop environment or web browser. AxiomView builds on the solid foundation of the Canary Labs' legacy graphics products delivering a next generation client/server solution. Canary Labs provides outstanding customer care programs while their products' reduce the total cost of ownership over the life of the implementation.
About Canary Labs:
Canary Labs is focused on delivering world-class, real-time process data historian, trending, and data visualization software. Organizations worldwide rely on Canary Labs open, flexible and high performance software to improve process metrics and increase the agility, efficiency and reliability of data access. Our qualitative data analysis software drives more informed, confident decisions resulting in better results from people, processes and technology. Founded in 1985 with a focus to develop solutions from the end user's perspective, Canary Labs has provided over 16,000 installations in over 26 countries. Our clients represent private, public and government entities in all major industries.