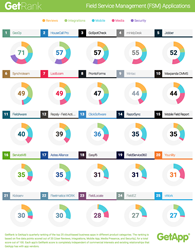 GetRank is GetApp's quarterly ranking of the top 25 Field Service Management (FSM) apps based in the cloud. Each app is scored using five criteria, each worth 20 points, for a total possible score out of 100
(PRWEB) October 14, 2015
GetApp, the largest cloud­-based business apps marketplace, has released its Q3 GetRank of the t​op 25 operations management solutions in three different categories; GeoOp took the top spot in Field Service Management, Stitch Labs in Inventory Management, and NetSuite in Business Management.
The ranking was determined using data available on GetApp and collected from other third­-party sources. The factors used to calculate an app's GetRank score include user generated reviews, integrations, mobile platforms, media presence, and security. The ranking will be updated every quarter to reflect newly available data.
The goal is to provide valuable data to businesses looking to make a first assessment when choosing field service, inventory, or business management software.
"Bringing field service management and inventory management solutions into the cloud has revolutionized the way that many small businesses operate. As access to mobile devices gives better connectivity between the front and back office, software developers need to consider the importance of mobile-first solutions, as the potential for connectivity will only grow as technology continues to develop unique uses for these sectors," says GetApp Co-founder Christophe Primault.
A range of data points is what makes GetApp's ranking unique in the industry. User-generated reviews and integrations are calculated using data listed on GetApp, while security scores come from vendor responses to a security survey based on the Cloud Security Alliance Self-­Assessment Form. Mobile platform data is pulled from Google Play and the Apple App Store, while media scores are calculated using the number of Facebook followers and Twitter fans a vendor has.
Along with the ranking, GetApp has released a research report highlighting software trends in the operations management industry. The report features interviews and insights from some leading industry experts, including: Justin Guinn, market research associate at Software Advice; Yuri Margoulis, director at WorkForce Delta; Forrest Burnsin, market research associate at Software Advice; and Seth Patin, founder of Accelogix.
Click through to access t​he Q3 GetRank for Field Service Management, Inventory Management, and Business Management software.
Download a copy of GetApp's Q3 research report, Operating in the Cloud: Key Trends for 2015 on GetApp.
More about GetApp: GetApp, a Gartner company, is the leading premium business app discovery platform on the web. Headquartered in Barcelona (Spain), GetApp serves as a platform for user-generated and editorial reviews of software and apps for businesses.