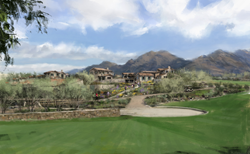 "Working in partnership with Don Ziebell's team at Oz, we have created a series of homes that feel elegant, timeless and totally personal. We have created a lifestyle unlike anything else in Silverleaf," said Rod Cullum, Cullum Homes.
Scottsdale, AZ (PRWEB) October 15, 2015
Cullum Homes, one of the Valley's most prestigious homebuilders, is set to debut The Village at Silverleaf, its newest offering in one of the final neighborhoods in the exclusive Silverleaf community in Scottsdale. Interested buyers have already reserved more than half of the 19 homes in this distinctive neighborhood. The Village at Silverleaf Villas and Cottages will range in size from 2,735 to 4,468 square feet and prices start at $2,325,000. Groundbreaking for this luxury community is slated for end of 2015.
Designed to be "jewel boxes" set adjacent to the world-renowned Silverleaf Clubhouse, the first tee and the driving range, Cullum Homes' newest homes offer a totally engaging lifestyle. Twelve semi-custom Villas and seven Club Cottages, designed by world renowned Oz Architects and constructed by Cullum, will closely reflect the architecture of the Clubhouse and be clustered in the heart of DC Ranch's renowned Silverleaf community.
The Village offers buyers a totally unique resort lifestyle within Silverleaf. Just a short distance from the Silverleaf clubhouse, homeowners will live connected to the social and cultural hub of the community. "These homes offer an enviable lifestyle of ease and access," said Mike Sweeney, Designated Broker of Silverleaf Realty. With just a limited number of these golf course properties, demand has been strong in the early design phase.
"Working in partnership with Don Ziebell's team at Oz, we have created a series of homes that feel elegant, timeless and totally personal. These homes offer more than design though, we have created a lifestyle unlike anything else in Silverleaf," said Rod Cullum, one of the founders of Cullum Homes. "The early response to these homes demonstrates how ready families are for a connected lifestyle."
Don Ziebell, the founder and president of Oz Architects, collaborated on the design of The Village with Cullum Homes. One of the country's most notable design professionals, Ziebell was also the architect of the Silverleaf Clubhouse and Spa ten years ago and today he has extended that luxury and craftsmanship into this unique series of homes.
Ziebell has earned an international reputation for design and his local work includes some of the premier destinations in the Valley - The Royal Palms Resort and Spa in Phoenix, The Hermosa Inn Paradise Valley, and Seven Canyons in Sedona. For DMB, Ziebell has also led the design teams of its signature clubs at Kukui'ula Plantation Clubhouse and Spa in Kauai, Hawaii and Glenwild Golf Club in Park City, Utah.
Since its opening in 2003, Silverleaf has seen strong demand and sales in the community. This neighborhood is the final new single family phase in Silverleaf. There are resale homes and approximately 20 custom home sites remaining in Silverleaf.
About Cullum Homes, Inc.
Rod and Kim Cullum are the founders of Cullum Homes in Scottsdale, Arizona. Now in its 30th year and ranked as the number one custom home builder in the Valley, it is a Design/Build/Renovations company that offers the full spectrum of services to their clients. As a second-generation established firm, all aspects of the client experience, including architectural design, communications, home construction, renovations and ongoing client care and service have been developed and refined over many years to provide an enjoyable, creative and satisfying experience for their homeowners. The award winning builder is focused on delivering the finest home building experience for their discerning clientele throughout the design and construction process.
About Silverleaf
Silverleaf opened in 2002 as part of the award-winning development of DC Ranch. Its private, classically designed neighborhoods are tucked into the canyons of the McDowell Mountains. The upscale, gated community comprises five distinctive neighborhoods: the custom estate homesites of Upper Canyon and Horseshoe Canyon; the luxury custom homesites of Arcadia; and the intimate home designs of The Parks and The Sterling.
Each neighborhood is defined by its parks and open space, topography, view corridors, and home and homesite product offerings. At build-out, the community will have approximately 700 homes on its 2,000 acres. Prices range from the $975,000 to more than $14 million.
For more information on The Village at Silverleaf, contact Silverleaf Realty at 480.502.6902 or visit Silverleaf.com.
About Silverleaf Realty
Silverleaf Realty is an affiliate of DMB Realty Network, - an international sales and marketing company-providing solutions in the luxury residential real estate industry. Silverleaf Realty has been an integral part of the Silverleaf community before the first roads were even paved. The team of experienced professionals with proven results, offer specialized expertise as well as in-depth knowledge of the purchasing habits, market trends, pricing structures and home values in the Silverleaf community. To experience Silverleaf or arrange an exclusive, personalized tour of the Silverleaf Club and available residences and homesites, contact Silverleaf Realty at (480) 502-6902 or visit http://Silverleaf.com.