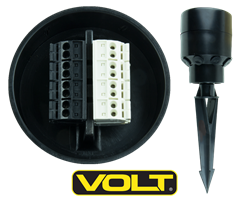 ...this new device is a significant advancement in the landscape lighting industry.
Tampa, Florida (PRWEB) October 13, 2015
VOLT® Lighting announced today a new landscape lighting multi-wire connector, the "Pro Junction Hub". The purpose of the device is to provide an improved method for connecting multiple lighting wires in a weatherproof enclosure.
Other junction hubs on the market use twist-on wire connectors that contain grease. Installing these can be messy and, once connected, cannot be taken apart. The VOLT® device uses non-greased terminal blocks. With these blocks, wires can be added or removed at any time after installation.
The VOLT® terminal blocks are attached to the inside of the enclosure. Constructed of individual wire clamps, installers open and close each one by depressing a small tab. No tools are needed.
Michael Breedlove, VOLT® Director of Innovation & Manufacturing, describes the reasons for developing the new Hub, "Landscape lighting wire connections have always been weak points in the system. Many are vulnerable to the elements and may corrode and lose integrity over time. Others use good connectors but have the downside of being encased in grease or heat shrink tubing – both types messy and time-consuming to install."
Breedlove continues, "When we decided to create a better hub connector, we identified several performance targets. They included ease and speed of installation, the ability to add and remove wires over time, and most important, lasting integrity of the connections. With our new hub, we succeeded in meeting all targets. We believe this new device is a significant advancement in the landscape lighting industry – both for professionals and determined do-it-yourselfers."
The VOLT® Pro Junction Hub carries a lifetime warranty and can only be purchased through the company's website, http://www.voltlighting.com.
About VOLT® Lighting
VOLT® Lighting is a factory-direct supplier of high-quality, low-cost indoor and outdoor lighting products and systems. The company features 7-days-a-week customer service, fast shipping, and lifetime warranties. For more information call 813-978-3700 or email (customersupport(at)voltlighting(dot)com).