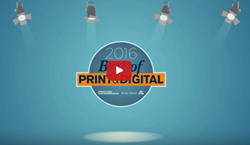 Atlanta, GA, Philadelphia, PA (PRWEB) October 13, 2015
Savvy business leaders and marketing executives across all industries want to ensure their customers remain loyal. Butler Street Research in conjunction with NAPCO Media, Printing Impressions and Print+Promo, bring a streamlined process to survey customers in the Print & Digital industry.
The Net Promoter® Score, or NPS®, was developed in 2003 by Fred Reichheld and Bain & Company and has been regarded as single most leading indicator of future revenue.
Research shows up to 80% of customers who left their current supplier described themselves as "satisfied" or "very satisfied."
"Utilizing the Net Promoter® Score enables suppliers to understand which of your customers are loyal v. satisfied. Research shows that satisfaction does not equal loyalty," shared Mike Jacoutot, Butler Street's founder and managing partner. "And that makes NPS® the greatest predictor of client retention and future revenue."
Watch this video to find out in 2 minutes how others in the industry are retaining their customers and protecting their revenue. Obtain testimonials and referrals, gain actionable insights to identify gaps, improve service levels and increase your client retention through the Best of Print & Digital™ Program. Registration to participate is only open through November 15th. Companies can register through http://www.bestofprintanddigital.com.
About Butler Street
Butler Street is a management consulting, training and research firm that specializes in client and talent development. Butler Street's managing partners have in excess of 100 years of executive level sales, marketing and operations experience across print, staffing and revenue cycle industries. Butler Street helps companies and their people grow and delivers lasting results in the two most challenging areas that companies face: client development and talent development. For more information: http://www.butlerstreetllc.com. Contact: Mary Ann McLaughlin mmclaughlin(at)butlerstreetllc(dot)com.
About NAPCO Media
Since 1958, NAPCO Media has been a leading information source in the markets it serves. NAPCO Media continues to evolve with information distribution methods and specializes in the creation and cross-channel distribution of exceptional content. Our mission is to build community between our audience and our clients. For more information, visit http://www.napco.com