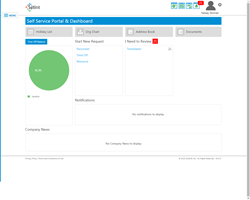 Los Altos, CA (PRWEB) October 13, 2015
SutiSoft, a leading provider of integrated business productivity platforms and standalone applications announces the updates to SutiHR, its comprehensive human resource management software platform. The updates include new templates for HR professionals for on-boarding and general HRM, automated notifications, and customization in document management.
Updates include:

New templates for creating and assigning documents during employee on-boarding
Allowing users to upload multiple documents
Displaying uploaded documents on the enrollment page under Benefits
Notifications to managers and HR admin upon the completion of an employee's probation period
Notifications to reporting authorities when subordinates work overtime
Benefits to reflect 25K plan after 90 days of employment
'Primary Job Change' option to be made available only to HR managers and reporting authorities
Setup of team time off calendar so that supervisors can access other departments' calendars
HR admin can edit the performance review schedule
To learn more about the solution, please visit http://www.sutihr.com or call us on 650-969-SUTI
About Sutisoft:
Sutisoft provides a comprehensive suite of cloud-based business solutions for companies of all sizes. The suite includes scalable and easy-to-use solutions for HR, Payroll, Employee Travel & Expense, ERP, CRM, Document management, Business data analytics, and Electronic signature. This allows small, med-size, and enterprise customers to control costs and save time through use of integrated solutions. Headquartered in Los Altos, California, SutiSoft also has regional offices in Germany, India, and Japan. Additional information is available at http://www.sutisoft.com.