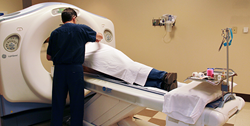 Making patients better faster has always been our main priority
Alexandria, LA (PRWEB) October 14, 2015
Minimally Invasive Image Guided Specialists (MIIGS) has opened a second full-service angiographic suite at their Alexandria clinic. Featuring the latest in imaging equipment and medical technology, this second suite allows MIIGS to provide more rapid patient care.
"Making patients better faster has always been our main priority," said Dr. Christian A. Scheuermann, DABR, CAQ. "This additional angiographic suite allows us to help more patients quickly and efficiently while still providing the highest level of care."
MIIGS is the only clinic in the region that provides in-office angiography. With the opening of a second full-service angiographic suite, more patients are now able to schedule same-day and next-day appointments for angiograms and other interventional radiology-based medical procedures.
Minimally Invasive Image Guided Specialists is dedicated to the practice of interventional radiology, which encompasses advanced medical techniques that often replace open surgical procedures and are typically much less invasive. MIIGS offers a wide range of procedures for the diagnosis and treatment of a variety of illnesses.
For more information about MIIGS or their new angiographic suite, call (318) 528-7560 or visit MIIGS.com.