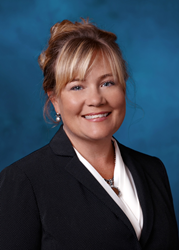 Elaine is critical to our long term goal, which is to provide an end-to-end solution from business incentives location negotiations to long term annual tax and regulatory compliance through the life of project
Costa Mesa, California (PRWEB) October 15, 2015
Think, LLP is pleased to announce that Elaine Foster Marr has joined the company as the National Practice Leader for Think, LLP's Relocation & Expansion Services Practice (T-Rex). In that capacity, Elaine will assist Corporate Real Estate and Tax Departments with the tax and business incentives associated with site selection. In addition, Elaine teams with brokerage firms to complement site selection with competitive business incentives negotiations between competing jurisdictions.
Prior to joining Think, Elaine worked with CBRE where she assisted companies with business incentives strategies. Elaine holds a Master's Degree in Public Administration and a California Real Estate license and has over 17 years of experience with Big 4 accounting firms and CBRE real estate. She has been a speaker at Tax Executives Institute and published articles in Mulit-State Taxation and Incentives, IPT's The Insider, and Future Circuits International magazines.
"The addition of Elaine to our team is quite simply a perfect fit. Her expertise in negotiated incentives allows us to serve clients at the optimal time before an expansion and/or site location has been made. Elaine allows us to provide a full spectrum of incentive services, which, when coupled with Think's proven tax credits expertise, is a powerful combination to help companies optimize relocation benefits," commented Jeffery Morris, Think Partner. "Elaine is critical to our long term goal, which is to provide an end-to-end solution from business incentives location negotiations to long term annual tax and regulatory compliance through the life of project."
Think, LLP is a tax consulting firm founded by former Big 4 federal and SALT Partners, focused on tax recovery and tax reduction based on high value insights. Think is headquartered in Costa Mesa, California and serves Fortune 1000 companies across the U.S.