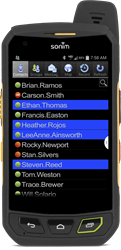 Communication is very clear, like you and I are talking right in front of each other
SAN LUIS OBISPO, CA (PRWEB) October 13, 2015
ESChat was used by state and local public safety officials and first responders to facilitate secure Push to Talk (PTT) communications on the State of New Mexico's Band Class 14 LTE network. The New Mexico Department of Information Technology (NM DoIT) administered the ESChat deployment including user and talk group management.
ESChat was pre-loaded onto Sonim XP7 Band Class 14 LTE Android devices and distributed to personnel from Albuquerque Police, Fire, and EMS, the State of New Mexico Department of Public Safety, the State of New Mexico Department of Homeland Security and Emergency Services as well as additional security personnel at the State Fair and Balloon Fiesta.
New Mexico is one of five states in the country that have received federal grants to begin early deployments of a public safety LTE broadband network utilizing the FirstNet-allocated LTE Band Class 14 wireless spectrum.
ESChat operating on the FirstNet ready XP7 provides first responders a secure communication platform with the dedicated LTE bandwidth required to meet the needs for mission critical PTT operations.
"The ESChat system also includes full integration with the public safety P25 radio networks and dispatch environment," said Josh Lober, president of SLA Corporation, which makes the ESChat product. "This ability enables interoperable PTT communication between various agencies responding to a single incident site."
"The Push to Talk feature has been super helpful," said Captain Jackie White of the Albuquerque Fire Department. "Communications are always challenging at an event like this. On the Sonim devices [with ESChat] there is no interference at all. Communication is very clear like you and I are talking right in front of each other."
First commercially deployed in 2008 at Edwards Air Force Base in California, the ESChat product suite supports Android and iOS smartphone devices and personal computers. ESChat also supports basic and advanced LTE to LMR integration, including P25 via ISSI and DMR via AIS. These interfaces facilitate a seamless and secure communication environment between public safety radio networks and ESChat users on LTE. The ESChat Software Development Kit (SDK) allows developers to integrate reliable Cellular PTT communications into new and existing products. ESChat service is currently used in the education, construction, utilities, and hospitality sectors as well as by the US Military and first responders across North America, including federal, state & local law enforcement.
ABOUT SLA:
Based in San Luis Obispo, California, San Luis Aviation, Inc. dba SLA is a privately held product development and professional services corporation. Since 1991, SLA's team has been providing solutions for the United States Government for military and space satellite applications, as well as the wireless telecommunications industry. With a seasoned staff of engineering and business leaders, SLA's portfolio of Intellectual Property provides its basis for wireless networks and products deployed throughout the world. SLA possesses expertise in development of first generation through fourth generation (4G) wireless technologies, including CDMA, UMTS, LTE as well as other communication technologies.
For additional information, please visit: http://www.eschat.com/.
MEDIA CONTACT:
Holly Luban
media(at)eschat(dot)com