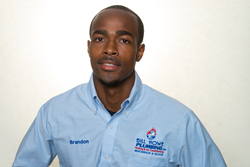 san diego, ca (PRWEB) October 13, 2015
The Bill Howe Family of Companies is an award winning HVAC and plumbing company in San Diego, also offering expert reconstruction and flood remediation services. Family-owned and operated for 35 years, they have maintained value, ethics and the highest caliber of employees. They have been named the Best San Diego plumber two years in a row from the Union Tribune Reader's Poll, a Healthiest Company in San Diego by the San Diego Business Journal (SDBJ), multi-year recognition as a Best Place to Work as well as many individual awards within the company.
Part of the success of the local San Diego plumber, Bill Howe, and his multiple divisions, is his dedication to education and training for all employees. A long standing member of the local San Diego Plumbing-Heating-Cooling-Contractors (PHCC) Association, and advocate for licensing in the plumbing trade, Bill Howe offers all employees the opportunity to attend the four year apprenticeship program in plumbing and the newly opened HVAC certifications course.
At PHCC CONNECT 2015, Contractors from across the nation gathered to "[Chart] a clear course for success for their business and the industry, engaging in valuable educational sessions, Product & Technology Showcase demonstrations, and [connecting] with other conversations." And, of course presenting awards, such as the PHCC and Delta Apprentice of the Year.
Brandon Pettway has been a Bill Howe San Diego plumber since 2014, and was already in his third year of the local PHCC Academy when joining the award winning company. Nominated by the San Diego Chapter, Brandon was the 2015 recipient of this year's coveted award. He is an outstanding student, field employee, and an asset to the company. "We are beyond proud of Brandon," said Bill Howe, President of Bill Howe Plumbing, Heating & Air. "He deserves the recognition of Apprentice of the Year and we expect great things from him. We want to ensure all of our employees have the same opportunity and become Journeyman Plumbers, and continue to take care of our customers the Bill Howe Way!"
The San Diego PHCC Apprenticeship Program is federally recognized by the Department of Labor and students spend 156 hours of classroom instruction per year, while also being trained "on the job" working for licensed contractor members. Since the PHCC Academy began, Bill Howe Plumbing has graduated over 15 students of the program, and currently has 27 enrolled in both the plumbing and HVAC courses.
For more information about Bill Howe Plumbing, Heating & Air, visit http://www.billhowe.com, or to speak with Bill or Tina Howe regarding this announcement, contact Bill Howe Marketing Director, Julie Riddle at Julie(at)billhowe(dot)com.
About Bill Howe Family of Companies
Bill Howe Family of Companies is comprised of Bill Howe Plumbing, Inc.; Bill Howe Heating & Air Conditioning, Inc.; Bill Howe Restoration & Flood Services, Inc. The family-owned and operated company began in 1980 with the plumbing division and has grown into San Diego County's largest low-cost one-stop-shop for service, repairs and installation, offering both residential and commercial services. 9085 Aero Drive, Suite B, San Diego CA 92123. Call 1-800-BILL-HOWE because We Know Howe!
###