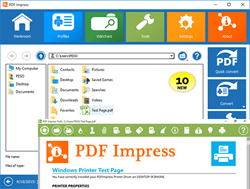 PDF Impress 10, an easy-to-use and affordable Adobe PDF conversion tool is perfect fit for any organization using Microsoft Windows Desktops.
Jacksonville, FL (PRWEB) October 14, 2015
BinaryNow, Inc. announces PDF Impress 10, an easy-to-use and affordable Adobe PDF conversion tool for organizations. This professional software can create an Adobe PDF or ISO 19005-1 PDF/A archive file multiple ways and improve a way businesses create, convert, manipulate and sign documents.
Essential part of PDF Impress, virtual PDF printer with PDF profiles, allows creating an Adobe PDF (Portable Document Format) from any application that can print. Convert, organize and batch process documents with ease in Workroom or run Watcher with a scheduled conversion. PDF Impress Tools can view, print, merge, split, extract, insert, remove and rotate PDF pages, scan to PDF with multi-language OCR, add stamp, watermark or digital signature with a visual appearance and encrypt whole document. Integration with Windows Explorer allows a right click access to quick convert, convert with custom PDF Profiles or to digital signing.
PDF Impress 10 users can scan documents and images directly into PDF Impress Tools using a scanner or a webcam and use multi-language optical character recognition (OCR) engine. Fast Web View provides the ability to optimize PDF files for a quick viewing through the web. Additionally to various graphics formats and HTML5, content of PDF documents can be exported into (.txt) text files. Pragmatic (API) access allows simple integration with third party application and custom development services are available directly from BinaryNow, Inc.
PDF Impress 10 allows easy software distribution and deployment through custom MSI package creator. Organizations can further reduce administration costs by centralizing PDF creation on Terminal Services. User interface is available in 14 languages and more can be added on-the-fly.
Pricing for PDF Impress 10 starts at $79.95 for a 3-user license and ends at $4,999.95 for unlimited user site license. Umbrella Enterprise license allows loading this PDF suite on every computer in the organization, individually owned franchises, international conglomerates or companies that own independent subsidiaries and so making it one of the most affordable corporate licensing solution available on the market today.
Learn more and download PDF Impress 10, here:
http://www.binarynow.com/products/pdf-impress/
About BinaryNow, Inc.
BinaryNow, Inc., based in Jacksonville, Florida is a software developer providing document conversion technology for businesses. PDF Impress 10 together with SlimPublisher 5, easy to use desktop publishing software with artistic QR code generator and barcode support and BinaryNow Office, alternative to Microsoft Office, are their most popular products.
For more information, visit http://www.binarynow.com