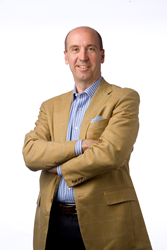 What we don't know is just as important as what we do know.
Lexington, KY (PRWEB) October 14, 2015
Futurist Jack Uldrich says, "What we don't know is just as important as what we do know." A seeming paradox, his keynote presentation, "The Future Requires Unlearning" will be featured during the President's Performing Arts and Speakers Program (PASP) at Morehead State Univeristy, Thursday, Oct. 15, at 7 p.m. in Button Auditorium. The event will be co-hosted by MSU's College of Business and Technology and will focus on unlearning in higher education.
Uldrich continues, "The concept of unlearning might seem pointless to some people. So, too, might the idea of doing something that makes you uncomfortable.The surprising thing is this: If you do something out of your comfort zone, it widens your circle of comfort."
His keynote is designed to provide Morehead educators and innovators a solid and thought-provoking foundation upon which to conduct future strategic planning. An overview of many of the coming changes can be found in this article: 10 Quotations on the Future of Higher Education.
As a futurist he speaks over 100 times a year to a wide variety of businesses and organizations, especially on the transformation of health care, agriculture, education, energy, finance, retail and manufacturing. He argues that creativity and action are more powerful and versatile than knowledge. His speeches are packed with energy, anecdotes, and thoughtful business and personal advice that educate, entertain, and inspire audiences.
Uldrich provides an in-depth exploration of how the "Internet of Things," 'Big Data," social media, robotics, biotechnology, nanotechnology, artificial intelligence, renewable energy and "collaborative consumption" will change everyday life for all of us in the very near future. And he follows through with upbeat, practical and actionable insights on future trends, emerging technologies, innovation, change management and leadership.
Tickets for the event at Morehead State University are available from the Office of Student Activities in ADUC 204, with a valid MSU ID. Tickets for community members are also available and are limited to two per person. Additional information is available by calling 606-783-2033.
Parties interested in learning more about Jack Uldrich, his books, his daily blog or his speaking availability are encouraged to visit his website.