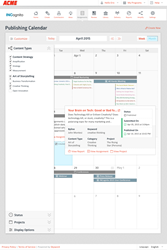 Boston, MA (PRWEB) October 13, 2015
Skyword, the leading content marketing software and services company, announced today the release of the Skyword Marketing Calendar, a solution that enables enterprise brands to view, share, and manage their marketing campaigns and editorial calendar from one place.
An enhancement of the platform's current editorial calendar, the Skyword Marketing Calendar serves as a centralized system for content marketers to align their editorial strategies with other marketing activities such as marketing events, product launches, paid media flights, conferences, and campaigns. Content marketers can manage their editorial strategy, collaborate across departments, and give the executive suite visibility into key elements of the overarching brand story.
"Content is at the center of the brand's marketing efforts," said Tom Gerace, CEO and founder at Skyword. "To succeed, marketers need to be aligned with every part of the organization. This is difficult, especially in the enterprise. We believe our calendar's functionality can help our clients break down departmental silos, make sense of the chaos, and make a lasting impact."
A recent study by Content Marketing Institute and MarketingProfs indicated that content marketing has become a priority, with nearly 90% of B2B and 80% of B2C companies investing in its creation. In the same study, researchers found that those who documented their strategy felt more confident in the value of their content marketing programs.
To date, 660,000 original stories have been published on the Skyword Platform, generating 800 million organic visits and seven million engagements on social media.
About Skyword
Skyword moves marketing leaders and those who create content for them forward. By embracing a sustainable, scalable approach to original storytelling, Skyword liberates brands from ineffective marketing practices and inspires them to create deeper connections with their audiences. The Skyword Platform makes it easy to produce, optimize, and promote content at any scale to create meaningful, lasting relationships. Skyword also provides access to a community of thousands of freelance writers and videographers, an editorial team, and program managers who help move clients' content marketing programs to new levels of creative excellence. Skyword is a privately held company headquartered in Boston, Mass., with offices in Miami, Fla., Palo Alto, Calif., and New York, N.Y. The company's technology center is located in Pittsburgh, Pa. Investors include Cox Media Group, Allen & Company, Progress Ventures, and American Public Media Group.
Connect with Skyword
Website: http://www.skyword.com
Facebook: https://www.facebook.com/skyword
Twitter: @skyword
LinkedIn: https://www.linkedin.com/company/skyword-inc-
The Content Standard: http://www.contentstandard.com/