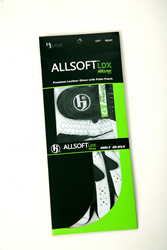 Thackerville, Oklahoma (PRWEB) October 20, 2015
HJ Glove, in a joint effort with Krank Golf, will showcase their latest innovation in golf gloves, the Allsoft™ LDX powered by Krank Golf, at the 2015 World Long Drive Championship October 14 through 21 at the WinStar World Casino and Resort.
The newly redesigned glove has been specially engineered for long drives, and tested with Team Krank - Krank Golf's long driving team who hold numerous records for their ball speed and distance. The Allsoft™ LDX features specially-tanned cabretta leather with reinforced stitching to create a glove that will prove durable in harsh conditions.
The glove was unveiled in Orlando in January of this year at the 2015 PGA Merchandise show.
"We set a very high bar for ourselves in creating the HJ Allsoft™ LDX glove powered by Krank. Bridging the gap between comfort, durability and performance was no easy task. The HJ Allsoft™ LDX was designed to meet the incredibly high standards of the world's biggest hitters. We are more than confident the HJ Allsoft™ LDX glove will meet and exceed expectations of all golfers regardless of level of play," HJ Glove President Sam Jung said.
"Feel is an incredibly intuitive aspect of driving the ball further. The Allsoft™ LDX glove does not compromise in any way. The materials and stitching pattern in the Allsoft™ LDX glove stand up to the longest, most accurate hitters in the world, while actually enhancing feel and control. We are excited to showcase this glove at such an important event this week," Krank Golf President Lance Reader said.
Krank Golf, founded in 2002, specializes in designing conforming, forged titanium golf drivers for all distances – not just the long drive. Krank Golf's Team Krank features a number of golf pros, who collectively hold 16 Re-Max World Long Drive Championship trophies, a Guinness World Record, and have swing speeds of more than 150 miles per hour. Team Krank is available to perform for golfing charity events. For more information on Krank Golf's products, visit http://www.krankgolf.com/.
HJ Glove has been a leader in golf glove technology since 1976, with a unique selection of golf glove styles, including the best-selling Ladies Gripper Fashion Glove. In 2001 and 2002, the Darrell Survey, the authority in golf equipment, ranked the HJ Glove number 1 in durability and in the top 5 for comfort. For more information on HJ Glove's products, visit http://www.hjglove.com.
Contact information:
HJ GLOVE
Sam Jung
(818) 889-2223
sam(at)hjglove(dot)com
KRANK GOLF
Lance Reader
(480) 699-5041
(855) 699-1900
krankit(at)krankgolf(dot)com