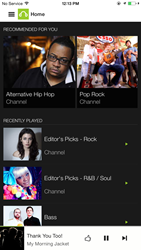 LOS ANGELES, CALIFORNIA (PRWEB) October 15, 2015
Earbits, the streaming music service designed to connect artists and record labels with new fans and customers, today announced its first big app release since its acquisition by Atlanta-based You42, Inc. The new iOS application seamlessly blends music from over 14,500 high quality independent artists with music stored locally on the device, providing a customized mix of familiar tracks and true music discovery with no commercials or subscriptions.
Upon launching the app, users are prompted to choose their "Discovery Level" while Earbits analyzes music stored on their device. The app then makes recommendations from over 400 hand-curated genre, mood and activity channels, and intelligently blends users' own music into the channels to give listeners familiar music with up to 100% music discovery. Unlimited skips and no commercials make it simple for users to explore new music, during which they can add their favorite discoveries to a personalized library and connect with artists by joining their official mailing lists.
"This app is the direct result of listening to our users and artists," said Earbits co-founder Joey Flores. "Listeners are sick of unrelated commercials, repetition in radio, and the same overwhelming catalogs. Earbits puts them in control, puts all of the focus on connecting with new artists, and all without a single ad or commercial."
The release includes an interface overhaul with an increased focus on the ability to build a catalog of favorite artists and explore them on-demand. Listeners use the app's social currency, Groovies, to trade artist-friendly actions for on-demand listening. The company has said that it has plans to incorporate the currency into more aspects of the service, encouraging users to buy concert tickets, merchandise and more.
"The new Earbits app is a big step toward our greater vision for mobile music," said You42, Inc. COO Ashley Johnson. "It gives listeners more of what they want without compromising the strong value we put on music by actively encouraging users to support the artists they discover."