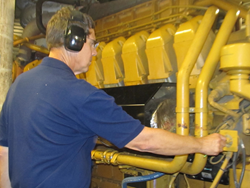 Focusing on energy savings and developing attractive, energy-efficient facilities helps us to continue providing high-quality, cost-effective services while exceeding patient expectations.
Williamsport, PA (PRWEB) October 13, 2015
In an age where the cost of energy is rising, Susquehanna Health's (SH) 2015 utility costs were 36 percent lower per square foot than in 2009. The Williamsport Regional Medical Center (WRMC) campus has grown 50 percent since 2010, yet the actual cost of heating and cooling has decreased by eight percent.
According to Facilities Management Administrative Director Dieter Reichmann, this is the result of an ongoing energy management strategy initiated several years ago. The strategy includes replacement of an older infrastructure with high-efficiency boilers and chillers, construction of a new Energy Service Center (ESC) and other energy efficient facilities, implementation of a co-generation system that reuses exhaust heat to power heating and water systems while producing electricity and continuously seeking the lowest prices for electricity and natural gas.
Powerful Production
According to Director of Plant Operations Steve Mahonski, SH's co-generation system produces 1900 kilowatts of electricity per hour. For every minute of operation, the system generates enough electricity to power a typical home for a day. "Since we're not taking that amount of power from the electrical grid, more is available to the local community," Mahonski explained. "The exhaust heat from the generation process produces 4,000 pounds of steam per hour that is used to heat the facility, provide hot water and provide steam for the sterilization of instruments," he said. ESC boilers are also designed to switch to oil as a heating source in case there is a need to conserve natural gas.
Moving forward, SH plans to increase the usage of co-generation to produce even more electricity than in previous years and continue replacing old infrastructure with high efficiency equipment. A project is already underway to replace 40-year-old boilers in the West Building at WRMC. The new equipment is more efficient, produces fewer emissions and has a lower operating cost.
Part of SH's energy management strategy is to focus on obtaining the lowest possible prices for utilities. For example, in 2015, SH reduced the cost of electricity by 20 percent compared to the previous year.
"We're very pleased that since receiving a $500,000 energy incentive in 2012, Susquehanna Health has reinvested in energy savings," said PPL Electric Utilities Regional Affairs Director Teri MacBride. "Susquehanna Health has proceeded exactly as the program was intended, by proactively and aggressively pursuing energy conservation opportunities."
Green Construction
Another element of the strategy includes the construction of energy efficient facilities. SH's Patient Tower at WRMC, which opened in 2012, consists of greater than 240,000 square feet of high-efficiency medical and conference space that achieved the prestigious LEED Certification at the gold level for its environmental and human health performance. A new 87,000 square foot Health Innovation Center offering outpatient, pharmacy, primary care physician and medical specialist services, built with same high-efficiency design, opened in early 2015.
Included in the construction are building automation systems designed to monitor elements including humidity and temperature. These systems also sense when a room is empty and shut off lights to conserve energy.
Evaluating Facility Efficiencies
"Another element of the energy management strategy is to continuously evaluate facilities and identify areas that can be repurposed for use as modern, energy-efficient areas," said Reichmann. A 15,000 square foot space in the Heritage Building of WRMC was recently converted into a modern, energy efficient Hospitality Inn for overnight guests.
"Susquehanna Health has done a great job with energy management," said Reichmann. "Focusing on energy savings and developing attractive, energy-efficient facilities helps us to continue providing high-quality, cost-effective services while exceeding patient expectations."
About Susquehanna Health
Susquehanna Health is a four-hospital integrated health system including Divine Providence Hospital, Muncy Valley Hospital, Soldiers + Sailors Memorial Hospital and Williamsport Regional Medical Center located in northcentral Pennsylvania. Serving patients from an 11-county region, Susquehanna Health is a healthcare leader and has been recognized at the national and state levels for quality of care. Susquehanna Health offers a wide array of services that include cancer care, heart and vascular care/heart surgery, neurosciences including neurosurgery, orthopedics, urology, OB/GYN, gastrointestinal services, behavioral health, physical rehabilitation, home care, long term care, assisted living and paramedic/ambulance services.