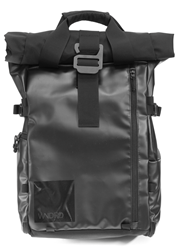 The WANDRD ethos states that life is never stagnant, so neither should be a great backpack," said Ryan Cope, co-founder and half of the brother-and-brother team at WANDRD
Orem, U.T. (PRWEB) October 13, 2015
October 13, 2015 – Today, WANDRD, a startup developing action-evoking carrying solutions, officially announced its Kickstarter campaign for the PRVKE Pack, a stylish, purpose-built backpack designed to keep up with the most adventurous wanderers. Adaptable to any lifestyle, the PRVKE Pack's immensely intuitive design mixes with a touch of sex appeal to easily transition from photo shoot, to globe-trotting travel, to the daily commute. For more information on the PRVKE Pack (pronounced "provoke") and available backer packages, please visit: https://www.kickstarter.com/projects/wandrd/the-bag-for-photographers-travelers-and-adventurer
"The WANDRD ethos states that life is never stagnant, so neither should be a great backpack," said Ryan Cope, co-founder and half of the brother-and-brother team at WANDRD. "We are passionate photographers and explorers, and needed a pack that could effortlessly flow from photography shoot to commute, from the airport to interstellar travel, all while being ridiculously good looking and standing up to the inevitable beating we dish out along the way."
With a fully-customizable interior, the PRVKE Pack is a versatile carrying solution for a laptop, camera gear, clothes, books, or just about anything life demands. For photographers or electronics junkies, a removable foam cube cradles gear in a cushion of padding; its infinitely-interchangeable Velcro dividers can accommodate a DSLR body and up to eight lenses, or any similar combination of gear. With the protective cube removed, the PRVKE becomes a day pack that seamlessly fits larger items. Also, its built-in, adjustable Trifold Laptop Sleeve adjusts to fit a 13"-17" laptop, and its FAA-approved design speeds carriers through security.
Exterior materials, including tarpaulin and nylon dobby, give the PRVKE Pack a sleek aesthetic that delivers extreme durability while being resistant to the elements. Within this shell, WANDRD has created one of the most accessible backpacks available, featuring multiple access points to the gear compartments. A central clamshell zipper opens the entire pack for lay-flat packing and reconfiguration of the interior components; each interior compartment zips closed for super clean organization, and the camera compartment lining keeps dust and sand out even when the clamshell is open. A roll-top design offers a second reach-in access point and allows the pack to easily expand or contract to meet the day's gear load out. A third side access zipper puts the camera, or anything else stored in the bottom of the pack, within reach even with the padded foam cube in use.
"I consider myself the style of this duo and Ryan is the function - anyone who knows us will not disagree," said WANDRD co-founder, Spencer Cope. "More than simply blending style and function, we realized that a great bag does more than carry your stuff. A great bag evokes action and facilitates adventure, all while being so intuitive that you forget it's even there, so your attention is focused on where you are and not what you're carrying."
Jammed with intuitive and thoughtful design elements, the PRVKE Pack also includes the WANDRD Pouch, an additional accessory pouch that is just as sexy and bomb-proof as the main pack. Made from the same high-quality tarpaulin exterior materials, the fleece-lined pouch is perfect for cords or small electronics. Stemming from the WANDRD desire to maximize every design element, the PRVKE Pack also features:

Multiple exterior pockets including a large front sleeve for magazines or to house the WANDRD Pouch, a side pocket ideal for water bottles, and a secure documents pocket molded into the back panel which serves as a safe place to store passports, cash, etc.
An integrated camera sling strap eliminates the need for annoying, pain-inducing neck straps. Attaching to any camera via the provided ¼" 20 screw mount this intuitive addition keeps the camera from bouncing when walking, instead it stays comfortably slung under arm for quick-draw action.
The custom molded back panel and cushioned, breathable shoulder straps ensure maximum comfort.
A set of versatile accessory straps, included with every bag, can sling a tripod or blanket to the bottom of the bag, or strap a skateboard to the back of the pack; swing the pack around to the front, and the accessory straps hook to the inside of the clamshell to provide a secure platform from which to work.
Magnetic tote handles make it easy to carry the bag when getting on and off of trains, buses, or planes.
Integrated elastic pockets on each backpack strap are customized as a lens cap pocket and SD Card/battery pocket.
An integrated rainfly easily folds out of a hidden pocket for unexpected downpours; and the fit is loose enough to shelter accessories strapped to the outside of the pack, but can also be firmly secured around the pack when riding a motorcycle or bike.
All zippers on the PRVKE Pack are industry-standard YKK Zippers, and are sheathed with a zipper garage where they could touch the user's body.
The PRVKE Pack is currently available through WANDRD's inaugural Kickstarter campaign. Offering massive savings from anticipated retail pricing, backer packages start at $195.00, and backers can expect delivery around April 2016. For more information on the PRVKE Pack campaign, please visit: https://www.kickstarter.com/projects/wandrd/the-bag-for-photographers-travelers-and-adventurer
PRVKE Pack Dimensions: 19" x 12.5 " x 8" or 38 Liters
Adjustable Laptop Sleeve Dimensions: Up to 11" x 16"
WANDRD Pouch Dimensions: 9" x 7.5"
About WANDRD
Life wasn't meant to be planned. It was meant to be lived. There are those that find solace in the comfortable, the road oft traveled – we are not the company for them. We exist to encourage the unexpected, the deliberate leap into the unknown. Yes we create travel and photography gear, but only to provoke the WANDRD. For more information on WANDRD or its flagship PRVKE Pack, please visit: http://wandrd.com/
###
Media Contact:
Zach Heath
zach(at)engagecoms(dot)com
(401) 559-7350