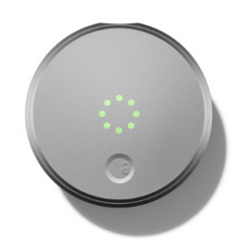 No more mess, no more stress. A smart lock can put the consumer's mind at rest. - BestSmartLock.net
New York, New York (PRWEB) October 13, 2015
Returning home from work is always a wonderful delight. The serenity beckons the homeowner, as they drive just a tad bit faster than they should. Home sweet home here they come. And then, disaster strikes. They scour through their pockets only to discover their keys missing. At this point, they panic and begin scavenging through their vehicle, but the house keys are nowhere to be found. They walk around their home, check the windows and contemplate kicking in the door. Within a second, a spark of brilliance enters their mind. They reach into their back pocket, energetically retrieve their smart phone and stroll up to their front door.
As they approach, a cute little chime emits from inside of the home, as if someone is welcoming them inside. Instantly, the door unlocks. Within seconds, the homeowner is inside. Does this sound too good to be true? With the innovative smart lock, this is now a possibility. In the near future, classic door keys will be a thing of the past. Now is the time to buy door locks and BestSmartLock.net is the go-to source for everything smart door lock related. The website, which is completely dedicated to the smart lock technology, has just launched and is proud to welcome everyone to join their grand opening.
The staff behind the site has worked diligently to obtain and analyze each smart lock on the market. After months of research, experimentation and contemplation, BestSmartLock.net has finally released their buying guide for the best smart lock. They've compiled a comprehensive overview, ratings, unique features, and an overall assessment for each lock. The guide always covers everything consumers should know, before making their final decision.
Which lock is the easiest to install? Which company has the best customer service? How long is the warranty? The comprehensive buying guide covers everything, as well as numerous brands, including Samsung, Kwikset, Schlage, Yale Security, and August. Which of these companies is currently leading the market and revolutionizing the way people access their own homes? BestSmartLock.net has the answer.
As the website proclaims, when the consumer is ready to exit the prehistoric age, it is time for them find a smart lock of their own. The comprehensive guide is available to the public at the following link: http://bestsmartlock.net/.
BestSmartLock.net is a website, which is entirely dedicated to smart lock and similar technology. The site strives to deliver the most comprehensive, reliable and accurate information regarding these products and their respective makers.