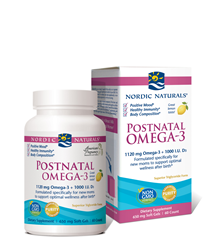 Postnatal Omega-3 is a first-of-its kind product that targets the unique health needs of new moms.
Watsonville, California (PRWEB) October 13, 2015
Nordic Naturals has launched Postnatal Omega-3, a first-of-its kind product that targets the unique health needs of new moms. Postnatal Omega-3, which has been named the "Official Postnatal Omega-3" of the American Pregnancy Association (http://www.americanpregnancy.org), utilizes Nordic Naturals' exclusive, new, ultra-concentrated omega-3 oil. This breakthrough oil combines 80% EPA+DHA concentration with 90+% triglyceride form for optimal potency and absorption.
"The postnatal period begins immediately after a woman gives birth," said Aimee Shunney, ND, Nordic Naturals Advisory Board member. "According to the World Health Organization, it's a critical period in the life of both mothers and infants, yet it is frequently neglected. We are very excited to offer a unique product that addresses this important time of life."
Postnatal Omega-3 is a blend of the omega-3s EPA and DHA with added vitamin D3. EPA (586 mg) supports a positive mood, as well as optimal body fat metabolism. DHA (456 mg) supports neurological development for breast-fed babies, and vitamin D3 (1000 I.U.) provides additional mood and immune system support for mom.
"It's important for women to continue to replenish their stores of DHA after they give birth," Shunney said. "EPA is also a vital nutrient for new moms as research increasingly shows that adequate intake of EPA is critically important for mood health. In addition, vitamin D is extremely important, as vitamin D deficiency can range as high as 91% for pregnant women in the U.S. Postnatal Omega-3 is the perfect product to address all of these concerns."
Like all Nordic Naturals fish oil products, Postnatal Omega-3 is in the triglyceride form—the form in which omega-3s occur naturally in fish and which research confirms is better absorbed and utilized by the body. Vitamin D3 (cholecalciferol) is the natural form of vitamin D, for optimal absorption. Postnatal Omega-3 is also non-GMO, free of artificial ingredients, and certified sustainable by Friend of the Sea.
Founded in 1995, Nordic Naturals is celebrating 20 years of revolutionizing omega-3s—pioneering a new definition of fish oil as it relates to purity, freshness, taste, and dosage. Based in Watsonville, CA, the company also offers complementary nutrients essential to health. Their portfolio, which is distributed to over 35 countries, includes more than 200 products in a variety of flavors and formulations for adults, kids, athletes, and pets. Family owned, Nordic Naturals works passionately to see generations of healthier, happier people around the world—and they're just getting started. Further information is available at http://www.nordicnaturals.com.
###