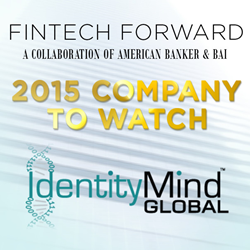 We're honored to be selected, and this recognition from American Banker and BAI is a testament to the dedication of our team, our platform, and our approach to risk management
Las Vegas, NV. (PRWEB) October 13, 2015
IdentityMind Global, provider of risk management solutions for digital commerce, was named today as a 2015 Company To Watch by American Banker and BAI on their Annual FinTech Forward list of up and coming technology providers shaping the industry. The list, a collaboration of American Banker and BAI, was released today at the BAI Retail Delivery Conference, held in Las Vegas, and can be accessed at FintechForward.com.
American Banker and BAI formed a strategic alliance and signature program, FinTech Forward, as a new initiative focused on giving bankers the information and perspective on technology they need to plot a course for the future. The central objectives of the program are to identify the forces and trends motivating banks' technology investment, and to spotlight new players shaking up the establishment. The Companies To Watch list is selected by an advisory board comprised of industry experts from BAI, SourceMedia, and other financial institution leaders.
"We're honored to be selected, and this recognition from American Banker and BAI is a testament to the dedication of our team, our platform, and our approach to risk management," said Garrett Gafke, IdentityMind Global President and CEO. "The dynamic nature of digital commerce requires a solution that can constantly adapt to the way entities are recognized on the Internet, from users to businesses. We pioneered Digital Identities and we're dramatically changing the way risk is viewed, from individual aspects like card number and device fingerprints, to recognizing risk as a cumulative depiction of complex digital identities. This is especially important when many emerging financial services are incorporating underbanked and unbanked demographics, where there is little information in existing databases."
As the pioneer and thought leader in digital identities, IdentityMind Global is rapidly gaining recognition for their identity-based approach to anti-money laundering and risk management. The IdentityMind™ platform uses proprietary electronic DNA (eDNA™) and a network of third-party service and data providers to build the industry's first network of shared reputations. These shared identities are updated across the IdentityMind customer network in real-time, allowing each bank, merchant, and online financial institution to benefit from the cumulative experience of the entire network, including both positive (trusted, verified details) and negative results (fraudulent transactions, failed verifications). The solution combines anti-money laundering, customer identification (KYC), sanctions screening, and fraud prevention services into a cost-effective risk platform easily tailored to the individual needs of each institution.
The IdentityMind™ platform is active globally, providing compliance and risk management services for financial institutions, online payments companies, digital currency exchanges, and emerging financial technology businesses across four continents.
The IdentityMind™ platform is available immediately for clients worldwide. To see the whole FinTech Forward list of Companies To Watch, visit FintechForward.com.
For more information about IdentityMind Global and the IdentityMind™ platform, contact evangelist(at)identitymind(dot)com
About IdentityMind Global™:
IdentityMind Global™ is a financial technology company offering an on-demand platform providing payments, risk management, fraud prevention and anti-money laundering services for Acquiring Banks, Payment Processors and Gateways, Payment Service Providers (PSP/ISO/MSP,IPSP), Digital Currency Exchanges, Financial Institutions (Banks, Money Service Businesses (MSBs), Money Transmitters, Online Lenders) and e-Commerce Merchants.
These services are offered in real-time using patent-pending Electronic DNA (eDNA™) technology to track the different entities (consumers, merchants, cardholders, payment wallets, alternative payment methods, etc.) involved in a transaction. It builds reputations associated with these entities, which are then used in evaluating fraud, merchant account applications, consumer account origination, identity verification services, potential money laundering, and more. These reputations are shared during analysis so everyone can benefit from the "network effect" while protecting the privacy of all entities involved.
© 2015 IdentityMind Global. All rights reserved. IdentityMind, IdentityMind Platform, IdentityMind eDNATM, IDMPay and the IdentityMind logo are trademarks or registered trademarks of IdentityMind Global, Inc. in the United States and other countries. All other brand, service or product names are trademarks or registered trademarks of their respective companies or owners.