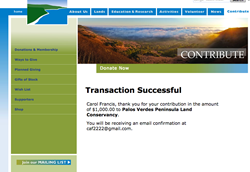 Human, animal, insect and plant life need to be protected during this drought. But how?
Rancho Palos Verdes, CA (PRWEB) October 14, 2015
Experts Dr. Allen Franz and Cris Sarabia discuss how residents and the Palos Verdes Peninsula Land Conservancy area can cope with the drought conditions including soil water-absorption resistance, fire hazards, plant and animal endangerment, and potential mudslide perils with the potential onset of heavy rains due to the El Niño-Southern Oscillation (ENSO) cycle. All this is explored on the Dr. Carol Francis Talk Radio show October 19, 2015, and linked at http://www.blogtalkradio.com/dr-carol-francis/2015/10/19/drought-plant-soil-fire-protection--two-professionals-pvp-land-conservancy .
Palos Verdes Peninsula Land Conservancy, one of few Southern California conservancies, helps residents learn how to optimize the protection of their land, plants and native insects and animals during drought and fire hazardous conditions. On today's show, two experts join this most important dialogue.  
Dr. Allen Franz is a board member of Palos Verdes Peninsula Land Conservancy (PVPLC). Also Allen Franz is a Professor of Anthropology at Marymount College, member of Palos Verdes South Bay Audubon Society, Vice President, a White Point Steering Committee Member,  and a Nature Walk Leader with PVPLC.   
Cris Sarabia is the Stewardship Manager for the Palos Verdes Peninsula Land Conservancy. Sarabia offers the workshops on "Water Conservation Strategies" related to strategies in the native plant garden such as greywater use, drip irrigation, efficient sprinklers and alternatives to watering plants and  "Landscaping for Fire Safety."   Also, Sarabia is responsible for implementation of land stewardship activities on nature preserves of the Palos Verdes Peninsula. Sarabia's background includes a B.A. in Environmental Science and Policy from California State University, Long Beach, specializing in the management and restoration of coastal sage scrub habitat, coastal salt marshes, coastal dunes and marine habitats for over the past four years. Sarabia's experience is also in developing naturalist education programs, California native plant propagation and community based restorations within the non-profit sector. Sarabia joined the Land Conservancy staff in February 2009.     
 
Palos Verdes Peninsula Land Conservancy attempts to protect undeveloped land from further development and protect plants, insects, animals and the residents surrounding the parcels of land which the PVPLC has accumulated.  PVPLC is a nonprofit, donation-based billion dollar asset organization located in Southern California Palos Verdes Peninsula area. The PVPLC mission statement is to preserve undeveloped land and its natural inhabitants and habitats.
Questions from the listening audience will be taken from Facebook Dr. Carol Francis Show and Twitter Dr. Carol Francis or emails to drcarolfrancis.com.