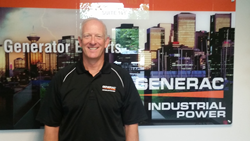 Zach Dean, Energy Systems Northwest Manager comments, "We're excited for Bob to join the ES team of sales engineers. His experience with both sales and service will provide the best possible experience for our customers."
Stockton, CA (PRWEB) October 13, 2015
With over 25 years' experience in the power generation field working with well-known generator companies in both the sales and service sides of the industry, Bob Bruner enhances the Energy Systems team of generator experts. Zach Dean, Energy Systems Northwest Manager comments, "We're excited for Bob to join the ES team of sales engineers. His experience with both sales and service will provide the best possible experience for our customers."
Bob has received numerous Sales Awards in his 25 year tenure in the power generation industry. Beginning as a General Field Service Technician, then elevating his experience through engine and generator servicing, he became proficient in troubleshooting mechanical and electrical systems, in addition to installation of engine/generator assemblies. Bob found his way to the sales side of the business as he assumed the role of Power Generation Regional Sales Engineer for a nationally recognized company.
About Energy Systems
As one the longest existing Generac Industrial Power Distributors, Energy Systems is the leading distributor of power generation systems with a well-established reputation of excellence in the industry for exceptional sales, service, training and rentals for their customers, receiving the 2014 Eagle Award, the prestigious Generac Industrial Products award for Best Overall Distributor in North America. Energy Systems is a California-based company which serves commercial and industrial customers throughout Northern California, Hawaii, Nevada, Washington, Oregon and Alaska.
Bob currently lives in the Portland area with his wife Susan.
You may contact Bob at bbruner(at)espowergen(dot)com or 971-284-0403