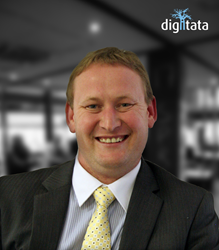 "As new Group CEO of Digitata, I will be restructuring the company so as to combine the products and service offerings into streams that will meet the needs of our customers and enable aggressive expansion into new territories."
Port Louis, Mauritius (PRWEB) October 14, 2015
Digitata Limited is pleased to announce the appointment of Mr Tinus Neethling as the new Group CEO of Digitata Limited.
Tinus will take over with immediate effect from Ted Bartlett who has been the CEO of Digitata since its inception. Ted will take up the role of Executive Vice Chairman.
Tinus was formerly the CEO of Rorotika Technologies, in which Digitata Limited recently acquired a controlling stake. Regarding his appointment as Group CEO, Tinus said:
"These are exciting times for Digitata and I am delighted to have the privilege of leading the company through them. Having served in both Digitata and Rorotika in the past, I understand the product range of both companies and their synergies. I will be restructuring the company so as to combine the products and service offerings into streams that will meet the needs of our customers and enable aggressive expansion into new territories."
Digitata's new structure involves four distinct streams:
1. Digitata Dynamic Tariffing – the established face of Digitata, with its world-leading Dynamic Tariffing™ System for voice, SMS and data.
2. Digitata Networks – a subsidiary of Rorotika Technologies providing a sophisticated, vendor-agnostic network configuration management offering (NetCM) to transparently manage and troubleshoot all major mobile technologies (2G, 3G, LTE, Wi-Fi) and multi-domains (Core, RAN, TX).
3. Digitata Insights – The fun face of the company, this stream will marry product offerings from Digitata and Rorotika to take advantage of synergies between Digitata's MeMe Mobile offering and Rorotika's mobile gaming platform. Digitata Insights will provide innovative mobile solutions focusing on mobile engagement mechanisms, which incorporate gamification and advertising strategies to create extended, emotional and valuable customer engagements.
4. Digitata Innovation – the "dream stream" that develops new innovations and handles prototypes and related patents. Current products being incubated and developed in the Digitata Innovation wing include Glovent's GloPortal and SnapTariff, and extensive work is being done in the area of "Big Data".
Any questions regarding the appointment of our new Group CEO and the restructure of Digitata, may be addressed to:
Conal Lewer-Allen
Chief Marketing Officer
Email: conal(dot)lewer-allen(at)digitata(dot)com
For further information on Digitata Limited and its product offerings, please visit the Digitata website
http://www.digitata.com
ABOUT DIGITATA LIMITED
Formed in 2008, Digitata is a privately-held multinational technology company with a strong mobile telecommunications and revenue management background.
Digitata provides solutions for mobile operators that enable them to achieve sustainable customer growth and profitable revenue generation in competitive environments, while enhancing the value of the mobile experience for their customers.
Digitata is the inventor of the Dynamic Tariffing™ System (DTS). DTS provides mobile network operators with a unique platform to attract new customers, retain the existing customer base and generate profitable revenues, while protecting the quality of the mobile network.
To support DTS, Digitata also offers sophisticated analytics services, which provide network and subscriber analytics, experienced leadership and executable advice on the management of a telecommunications network and Dynamic Tariffing. This service affords the operator unprecedented visibility of subscriber behaviour.
In 2014, Digitata announced MeMe Mobile, an innovative premium media channel that offers a unique customer-interfacing experience for any brand, reaching DT-registered mobile subscribers on their mobile telephone devices; targeting the consumer based on certain demographic, location and other value criteria.
In 2015, Digitata Limited acquired long-time partner company, Rorotika Technologies, allowing improvements in the service offered to customers, the streamlining of operations and the expansion of Digitata's product offering to include:

a sophisticated, vendor-agnostic network configuration management (NetCM) and self-organising network (NetSON) solution.
an innovative mobile gaming platform that can be used by mobile operators and brands to unlock revenue and engage deeply with customers in emerging markets, incorporating fun and competition.
Digitata's solutions are used by some 89 million subscribers and have been deployed in over 25 countries.