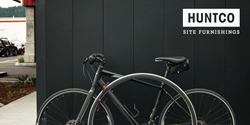 "Our new online image communicates the reasons behind Huntco's success: forward-thinking design and durable craftsmanship."
Portland, Oregon (PRWEB) October 14, 2015
Architects can now select, size, and order all outdoor metal furnishings for a building project from a single provider, Huntco Site Furnishings. The company announced today the launch of its redesigned website and digital catalog at http://www.huntco.com.
"The new Huntco platform is a one-stop resource for architects," says Huntco owner Casey Rice. "Users can select all the site furnishings needed for a project and instantly have complete information for planning and installation."
Huntco is best known for its classic and original designs of commercial bicycle racks. Besides bike racks, bike lockers, and bike repair stations, the company also offers a full selection of other durable metal products including benches, tables, bollards, receptacles, and custom-designed architectural details.
The new huntco.com presents all products as CGI renderings rather than photographs, allowing customers to better compare form factors. Each metal product comes with detailed specifications and installation instructions with recommended clearances and setbacks. Architects can also test the space requirements inside client projects by downloading CAD and BIM files.
A 35-year-old Portland company, Huntco has followed the rise of the city's progressive bike-friendly culture since the early 1990s. The website launch represents the first major brand image change in over a decade. The new brand identity, designed by The Office of Heather Cummings, reflects Huntco's Portland roots, its handcrafted manufacturing, and its many bike rack innovations over the years.
"Our new online image communicates the reasons behind Huntco's success: forward-thinking design and durable craftsmanship," says Rice. "We are thrilled to now offer building professionals a comprehensive and easy-to-use online catalog."
To view the catalog and learn more about Huntco, visit http://www.huntco.com.