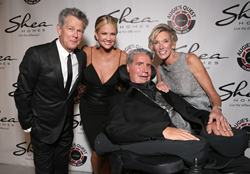 Los Angeles, CA (PRWEB) October 13, 2015
The 10th anniversary Tradition of Hope gala for Augie's Quest, an aggressive, cure-driven effort focused on finding treatments and cures for ALS, brought celebrities to the black-tie affair at the Beverly Hilton Hotel on Saturday, October 10, 2015. The Tradition of Hope gala is an annual event that funds ALS research being done at the nonprofit biotech, the ALS Therapy Development Institute.
Celebrity guests of Augie's Quest 10th anniversary Tradition of Hope gala included:

David Foster: David Foster is a Grammy award winning producer, song writer, arranger, performer and hitmaker. Foster dedicated his time and talent for this 10 year anniversary event as the featured entertainer for the night, in honor of a close friend who is living with ALS.
Nancy O'Dell: Emmy Award-winning entertainment journalist and co-host of Entertainment Tonight. O'Dell is also the official spokesperson for ALS.net, which Augie's Quest is affiliated with.
Forte Tenors: A classical crossover trio comprised of tenors Josh Page, Sean Panikkar and Hana Ryu who were finalists of Season 8 of America's Got Talent.
Ruben Studdard: American R&B, pop and gospel singer who won Season 2 of American Idol.
Jann Carl: Producer and co-host of reality TV show Small Town, Big Deal and former correspondent for Entertainment Tonight.
James Keach: Film director, known for Glenn Campbell: I'll Be Me (2014) and Walk the Line (2005).
The Tradition of Hope was sponsored by Allied Lube, College Works, Fidelity National Title, First American, RD Olson Development, and Shea Homes. For additional information, please visit http://www.augiesquest.org/traditionofhope.
About Augie's Quest
The purpose of Augie's Quest is to fund research and drug development aimed at ending ALS, Lou Gehrig's disease. Since 2007, Augie's Quest has raised more than $45 million in support of finding effective ALS treatments- making it the largest individual fundraising program for ALS!
All funds raised by Augie's Quest benefit the ALS Therapy Development Institute (http://www.ALS.net), the world's first and largest nonprofit biotech focused 100 percent on ALS research. Support comes from a huge network of national events and promotions, including the BASH for Augie's Quest, Tradition of Hope Gala and widely successful campaigns within the very generous fitness industry, such as the Clubs for the Quest, as well as a hugely innovative joint-fundraising initiative called the ClubCorp Charity Classic which benefits Augie's Quest and other local charities chosen by that networks members directly. For more information, visit http://www.augiesquest.org.