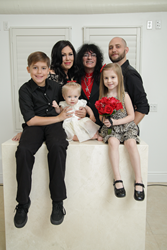 The Las Vegas ceremony, part of a "Rock Star Wedding" prize won last April by Danielle Fullmer, was more emotional than other weddings
Las Vegas, NV (PRWEB) October 13, 2015
While the city of Las Vegas has been ramping up for this evening's Democratic Debate on CNN, a young couple from Arizona exchanged vows a few blocks south in the Island Chapel at Tropicana LV Weddings on the famous Strip. The nuptials took place at 11am this past Saturday, and the stunningly beautiful bride opted for a dramatic black wedding dress instead of the traditional white gown. The officiant was none other than Paul Shortino, one of the lead singers in Raiding the Rock Vault and former frontman of Quiet Riot and Rough Cutt. The ceremony, part of a "Rock Star Wedding" prize won last April by Danielle Fullmer, was more emotional than most: Danielle's father, who was a huge fan of the songs featured in "Raiding the Rock Vault," passed away suddenly just weeks after Danielle's engagement to Matthew Bertrand.
Danielle's bittersweet submission to the contest included her personal tie to the show and the music: "I was a girl who was raised on classic rock! My dad had a record collection like no one else. I got engaged to a man who my dad thought the world of on Easter, 2014. My dad was ecstatic! Sadly, on May 25th, 2014, my dad passed away in his sleep. He passed away listening to his iPod. My fiance and I listen to his playlist daily. He was so happy I found such an amazing man, and this wedding would put a huge smile on his face. I saw the show (Raiding the Rock Vault) four days after my dad passed away, with my mom. We felt him in that room. He was smiling from dimple to dimple."
The Rock Star Wedding ceremony package prize awarded to Danielle and Matthew included creative bouquets and floral arrangements, professional photographers, streaming video of the live service for friends and family to view back home, a song performed by officiant and rock icon Paul Shortino during the wedding ceremony, two nights in a romantic suite at the All New Tropicana Las Vegas, and VIP tickets for the bride and groom to see Raiding the Rock Vault and meet the stars backstage. "We want to thank everyone at the Tropicana who made our Rock Star Wedding absolutely the best day we could ask for! Living out of state, I was a little worried about planning this wedding but Denise Pelletier and the rest of her crew at the Tropicana chapel made everything so easy. Having Paul Shortino as our officiant was a wonderful experience. He was so nice to us and our guests, and had everyone blow away with his sweet song during the ceremony," said bride Danielle (formerly Fullmer) Bertrand. "Everything came together perfectly and our guests couldn't stop talking about how beautiful the wedding ceremony was. The wedding package itself included everything we could possibly need!"
The newlyweds added: "We would like to give a special thanks to Paul, and the entire Raiding the Rock Vault crew. Our VIP meet and greet with the band was a once in a lifetime experience for us and our family and friends. The seats, the merchandise and the way the made us feel so special was a great end to the perfect day."
The "Rock Star Minister" was touched to be part of this special Las Vegas wedding that had so many emotional moments for the bride who grew up listening to songs featured in Raiding the Rock Vault. "I was honored to officiate at Danielle and Matthew's ceremony," Paul Shortino commented after the heartwarming ceremony. "There were so many very special moments and it was incredible to witness the love, grace and gratitude they clearly have for each other. So Happy to be the one to complete their union of matrimony. I wish a lifetime of bliss for the new Mr. and Mrs. Bertrand!" #ForeverOne #BigLove
About Tropicana LV Weddings
Tropicana LV Weddings is a full-service wedding venue on the South Las Vegas Strip. The charming free-standing wedding chapel and garden wedding courtyard are located inside the recently transformed New Tropicana Las Vegas. Lush landscaping, towering palm trees and gorgeous water features create an elegant, tropical wedding vibe. Tropicana LV Weddings' professional wedding planners work with couples from all over the world to plan extraordinary Las Vegas weddings on a daily basis. Tropicana Weddings has won many awards and 5-Star ratings, including WeddingWire.com for "Couple's Choice Award."
The unique "Rock Star Wedding™ is exclusive to Tropicana LV Weddings and features lead singer Paul Shortino.
In addition to being married by a rock star, couples who book the fun and high-energy package will receive VIP tickets to "Raiding the Rock Vault," where they will be able to meet and mingle with the band prior to the show. Among the amenities in the one-of-a-kind package are: a 12-rose hand-tied bouquet and rose boutonniere, 18 candid ceremony photos (4×6), 1 keepsake 8×10 photo, Internet broadcast, extended Internet viewing, wedding DVD, limousine service to and from the ceremony, rock 'n' roll or traditional ceremonial music of choice, a Unity Candle Ceremony, and a First Look Service, so that couples can preserve the traditional surprise by arriving separately to the chapel.
The Rock Star Wedding Package is available for $1,399 (plus an additional $300 if the couple adds "Addicted to Love" bridesmaids) and can be booked at http://www.TropLVWeddings.com, or by calling (702) 739-2451 or (800) 280-1187.
#rockstarwedding #VegasWeddingCapital #LasVegasWedding
About "Raiding the Rock Vault"
Simply the best rock show in Vegas. Ranked the No. 1 Performance in Las Vegas on TripAdvisor for the past two years, "Raiding the Rock Vault" brings the history of rock 'n' roll to life with musicians from iconic bands who played it, including Whitesnake, Bon Jovi, Heart, Survivor, The Offspring, Quiet Riot, Asia, and Badfinger. Featuring classic anthems from The Rolling Stones, The Who, The Doors, Jimi Hendrix, Led Zeppelin, Deep Purple, Free, Eagles, Fleetwood Mac, Queen, Boston, Kansas, U2, Aerosmith, Van Halen, AC/DC, Pat Benatar, Foreigner, Heart, Journey, Bon Jovi, Whitesnake, Supertramp and many more, "Raiding the Rock Vault" was voted Reader's Choice Best of Las Vegas. For tickets, please call (800) 829-9034 or visit the Tropicana Las Vegas Show Tickets desk or TropLV.com