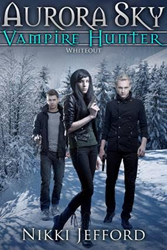 Buffy on steroids.
Charleston, SC (PRWEB) October 15, 2015
This successful series take us on a journey with Aurora Sky, an eighteen-year-old who wants to get off the iceberg she calls come.
Thanks to her rare blood type, Aurora is forced to hunt vampires for a government agency in Alaska while juggling school, boys, and secret missions. With the help of an undercover informant, an overzealous partner, and Mr. Tall, Dark, and Maddening, Fane Donado, Aurora takes on the underworld and the deceitful man running the agency.
The release on October 27th is the next book in the series.
Life on the run is no winter picnic, especially when Aurora's partner sees himself as the sheriff, not the outlaw.
It's a cat-and-mouse game across the Last Frontier with agents and vampires out for blood while Fane searches desperately to find Aurora before rogue vampires do.
The hunters have become the hunted. And the road to freedom has never felt more uncertain.
The first book in the series, Aurora Sky: Vampire Hunter is permanently free on all e-book readers. Youtube reviewer Benjaminoftomes called it "Buffy on steroids".
About the author:
Nikki Jefford is a third generation Alaskan now living in the Pacific Northwest. She loves fictional bad boys and heroines who kick butt. Books, travel, TV series, hiking, writing and motorcycle riding are her favorite escapes. She loves meeting people from all walks of life, from all around the globe; and wouldn't trade her French husband in for anyone – not even Spike!