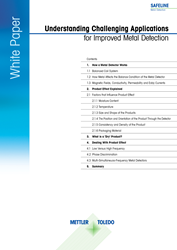 By overcoming product effect, it helps manufacturers increase brand protection, reduce costs and improve productivity.
(PRWEB) October 27, 2015
In the food industry, certain products can act like metal contaminants, a phenomenon known as 'product effect.' This is where the type of product being inspected can hinder the ability of inspection technology to correctly identify metal. At best this can lead to unacceptable false reject levels, at worst it can result in metal contaminated product leaving the production facility.
Preventing harm to consumers and brand reputation does not need to come at the cost of production efficiency. Mettler-Toledo Safeline has published a new white paper, "Understanding Challenging Applications for Improved Metal Detection" to help readers better overcome product effect.
Some factors that can influence the absence or presence of product effect are:

Salt content
Moisture content
Temperature
Product size and shape
Product position and orientation through detector
Product consistency and density
Packaging material – especially metallized film,
Whether product is 'wet' or 'dry'
"Conquering the product effect phenomenon has been a key issue for our industry for some time," explained Jonathan Richards, Head of Marketing at Mettler-Toledo Safeline Metal Detection. "Our Profile Advantage system represents a major technological breakthrough in metal detection capability. By overcoming product effect, it helps manufacturers increase brand protection, reduce costs and improve productivity. Consequently, the new system supports food companies by ensuring only contaminant-free product leaves their manufacturing facility. Combining this reliable performance with an overall low Total Cost of Ownership evaluation enables metal detection to become the preferred technology choice."
To deal with product effect, metal detectors operate at many frequencies, from 25 kHz to 900 kHz. Adjusting these frequencies means a trade-off between higher sensitivity, which leads to more false rejects, and lower sensitivity, which can result in metal contaminants passing undetected.
The most common additional technique for tiny metal contaminant detection is 'phase discrimination', which reduces product signal and amplifies metal signal, improving sensitivity performance. Sophisticated metal detectors have a dedicated Digital Signal Processor (DSP) to handle phase discrimination, and other advanced signal processing techniques, that result in the detection of even smaller metal contaminants.
Multi-Simultaneous-Frequency (MSF) detectors are the most sensitive, tackling product effect by operating at high and low frequencies simultaneously. The most sophisticated detectors use Product Signal Suppression (PSS) technology, with 2 stages of discrimination: frequency and phase. This cancels information from high and low frequency combinations, removing product signal to allow detection of much smaller metal contaminants. PSS can also handle variations, adjusting to different levels product effect in each product.
For a better understanding of how to overcome challenging metal detection applications and reduce the impact of 'product effect' for metal detection, download your free copy of the white paper from METTLER TOLEDO here.
METTLER TOLEDO Product Inspection
METTLER TOLEDO is the largest provider of end-of-line inspection systems used in production and packaging in the food and pharmaceutical industries, among others. Leading METTLER TOLEDO inspection system brands include Garvens checkweighing, PCE Serialization/Track and Trace, and Safeline Metal detectors and X-ray inspection systems. For more information about METTLER TOLEDO, visit http://www.mt.com/pi.
Mettler-Toledo Safeline is the world's leading supplier of metal detection and x-ray inspection solutions for the food and pharmaceutical industries. Together with Garvens Checkweighing, CI-Vision and Pharmacontrol Electronic GmbH (PCE), Mettler-Toledo Safeline forms the Product Inspection division of Mettler-Toledo.
For more information on the new Profile Advantage system or any aspect of metal detection procedures and technology, call Jonathan Richards, Head of Marketing of Mettler-Toledo Safeline Metal Detection on +44 (0)161 848 8636 or email jonathan.richards(at)mt.com.