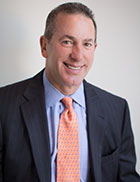 "I'm honored to be recognized by Rising Tide and I hope to serve as an inspiration for their students and graduates," said Silverman.
Jersey City, NJ. (PRWEB) October 15, 2015
Rising Tide Capital (RTC) will honor Jersey City real estate developer and philanthropist Paul Silverman, principal of SILVERMAN, as Community Builder of the Year at the 4th annual Start Something Champions Gala, held November 5th at Liberty House, Jersey City.
"Paul Silverman is an exemplary mentor, neighbor, and investor. He is a visionary entrepreneur who gets that our business is about solving problems, making people's lives better where they live and ultimately about creating an environment where relationships of mutual respect and opportunity could thrive," said Alfa Demmellash, founder and CEO of RTC. "Paul is a true believer in Rising Tide Capital's mission and has been a part of almost every initiative we have ever launched to help support the growth of local entrepreneurs and their businesses, putting his time, money and network to work for the cause."
Paul has dedicated his time and money into ensuring the success of other entrepreneurs to help continue economic growth throughout Jersey City. With SILVERMAN's tagline, "Building Neighborhoods", as the essence of each project, Paul works hard to provide a sense of community in the neighborhoods, advocating for the development of mixed-use buildings, and placing independently-owned retail stores in their properties. Paul, with his brother Eric, has been a staple in Jersey City's redevelopment since 1981.
"Rising Tide Capital gives a huge boost to our local entrepreneurs dreaming of success. The Rising Tide graduates add so much to our neighborhoods and our overall economy. I'm honored to be recognized by Rising Tide and I hope to serve as an inspiration for their students and graduates," said Silverman.
A fundraiser to support entrepreneurial development in underserved communities across Northern New Jersey, RTC's Start Something Champions Gala celebrates both local and national business owners, such as Paul Silverman, who are committed to boosting local economies. Purchase tickets for the Start Something Champions Gala here
Since 1981, SILVERMAN has been dedicated to building neighborhoods. With honesty and integrity, SILVERMAN develops beautiful projects that transform communities. SILVERMAN's work in Hudson County goes far beyond innovative projects and quality construction. Supporting the community is just as important as developing great buildings. SILVERMAN is actively involved with many civic and non-profit organizations.
Rising Tide Capital (RTC) is a Jersey City-based nonprofit organization founded in 2004 by Harvard graduates Alex Forrester and Alfa Demmellash. RTC helps entrepreneurs start and grow successful businesses by providing a 12-week Community Business Academy—supplemented by year-round workshops, coaching and networking events. These programs are currently offered in Spanish and in English in four cities across Northern New Jersey: Jersey City, Newark, Union City, and Orange Township. As of June 2015, 1114 entrepreneurs have graduated from the CBA and together, they operate 515 businesses in New Jersey. RTC's model of entrepreneurship development has received national recognition from President Obama to CNN Heroes.
To learn more, visit http://www.RisingTideCapital.org.