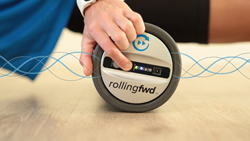 We believe vibration takes foam rolling to a whole new level and keeps people moving forward and feeling great. It's our goal to help people maintain their bodies so they can participate in the activities they love with less pain.
Boulder, Colorado (PRWEB) October 13, 2015
Boulder native and lifelong athlete, Mark Gonglach, has launched the first high-tech foam roller with 11 hours of vibrating power. Tested by Olympic and professional athletes, he developed the combined massage and vibration technology to reduce recovery time and increase athletic performance.
Mark's background in sporting equipment and high-tech sales led him to transition from Rally Software to launching his own start-up. RollingFWD is a Boulder-based business focused on developing top quality, athletic recovery products. For two years, he worked with Boulder athletes, medical professionals and a top product design firm to build and refine the vibrating roller now available for pre-order.
In September, Gonglach launched the vibrating foam roller on Kickstarter and reached his funding goal in just ten days. "When people try our roller for the first time, they love the results vibration gives them. The feedback we've been getting is overwhelmingly positive. It's truly an upgrade to traditional foam rolling," said Gonglach.
Olympic hopeful, Jamie Connor has been one of the first users of the vibrating foam roller and states, "I am pole vaulting better at age 34 than I did at age 24 because I'm taking better care of myself." Connor is a former Boulder resident that now lives and trains in Toronto as she competes for a spot on the Canadian Olympic Pole Vaulting Team. She's been using the RollingFWD prototypes as part of her recovery routine. She says, "the Rolling FWD foam roller is less painful because of the vibration. Also, I've found that I sleep better after I use it."
Massage—including foam rolling—has long been used to help anyone with stiffness and sore muscles. By pairing that with vibration, RollingFWD is unlocking a whole new set of benefits like reduced pain, increased blood flow and faster recovery.
How RollingFWD Started
RollingFWD was born from Gonglach's own recovery needs. After wear and tear on his body from cycling, skiing and rock climbing, vibration therapy and foam rollers were the two primary techniques that helped him recover from knee surgery and a back injury. Gonglach built his first vibrating foam roller prototype in his basement. With the help of Boulder-based Samson Design, they built five more iterations using 3-D printers to create a well-crafted, high-tech recovery device.
Technical Specs
The RollingFWD vibrating foam roller is offered in two sizes—a compact 18 inches or a professional 36 inches which is the only full-length vibrating foam roller available on the market. It has three levels of vibrating intensity via a lithium-ion battery that lasts up to 11 hrs.
Where to Try the Vibrating Foam Roller
RollingFWD provides demos of the vibrating foam roller at gyms, parks and events in Boulder and around the country. Visit the event page on the RollingFWD website for upcoming demo opportunities.