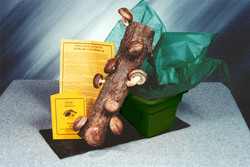 Every log is hand-picked for its readiness to grow. That's why we can offer an unconditional guarantee.
Perkins, OK (PRWEB) October 13, 2015
Fall and spring are the peak seasons for shiitake mushrooms to pop through the bark on mushroom grow kits made with hardwood logs, according to the Mushroom Lady, Sandra Williams, of Lost Creek Mushroom Farm. "Lower temperatures and rains around the equinox trigger the mushrooms to grow naturally."
With a shiitake mushroom kit, log owners mimic the natural cycle by soaking their logs in non-chlorinated ice water for 24 hours. "We call it 'shocking' the logs," said the Mushroom Lady. A log can be shocked and grow mushrooms about every two months for 3-5 years. Harvests are small at first, but grow more mushrooms each time as the log matures.
"In the second and third years, a log can be covered top-to-bottom with shiitakes. Then the yields slowly taper off," she explained.
Normally, the logs are kept indoors like plants, exposed to natural day and night cycles. "When the logs are set outside in the spring and fall they grow more mushrooms, bigger mushrooms, and the mushrooms have more flavor and nutritional values. The shiitakes have their optimal temperatures, favorite light-dark cycle, and plenty of moisture. This is their peak season, and we're seeing abundant crops on this year's logs."
With a 22-year successful track record, Lost Creek Mushroom Farm has plenty of experience in growing the world's second-most popular mushroom on logs. "Every log is hand-picked for its readiness to grow. That's why we can offer an unconditional guarantee."
The logs are hardwoods, such as oak, hickory, gum, and cherry. They are inoculated (injected) by hand with seed material called "spawn." See how it's done here.
The logs are placed outside in shade for 8-10 months until the mushrooms are ready to grow, or "fruit." A kit grows shiitakes every two months, soaked regularly in non-chlorinated, room-temperature water; and then "shocked" in non-chlorinated ice water every two months.
Lost Creek Mushroom Farm has kits starting at $18 for a 6-inch 'Shroomie. "Perfect for the coffee table," the Mushroom Lady said. The Original Tray Kit contains a 14-inch log with an attractive tray for storing, fruiting, and soaking the log, $49.95. The 10" Single Log Kit sells for $29.95. Prices include shipping and handling.
The Mushroom Lady described how two logs can yield more mushrooms. "The logs have pheromones that create a little competition to see who can grow more mushrooms. So two logs fruited together grow more shiitakes than either log alone."
"Instead, by alternating the fruiting log, people can harvest every month instead of every other month."
The Ma and Pa Kit comes with two 10-inch logs for $49.95. The Best Buy offers a savings of $10 when two Original Tray Kits are shipped to the same address, $89.95.
The Mushroom Lady, who eats shiitakes every day in the spring and fall, said "Get one as a gift and keep one for yourself. This is a good time to order for shipping in December."
Kits include hand-picked, ready-to-fruit hardwood logs, plus written and illustrated instructions and a recipe booklet. Kits over 9 inches are fully guaranteed to fruit.
A portion of sales is donated to Mushrooms in Ghana, a project of the Mushrooms for Well Being Foundation, helping to expand the mushroom industry for small-scale mushroom farmers in West Africa, most of them women. See a video here.
Order online at http://www.shiitakemushroomlog.com, at Amazon.com or by phone at 1-800-792-0053. Free brochures are available by phone request or email, lcmf(at)provalue(dot)net.