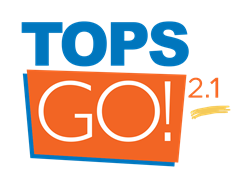 The whole system from start to finish, from being in the subdivision taking a picture to the moment the owner is notified… it's so streamlined. - Daniel Camp, TOPS GO! user
Clearwater, FL (PRWEB) October 13, 2015
TOPS Software, the developer of the industry-leading TOPS suite for Condominium and Homeowners Association Management, today released a major update to their popular mobile app, TOPS GO! to version 2.1.
TOPS GO! is a web-based mobile app that enables TOPS users to access and manage their community association portfolio on their smart phone, tablet or other web enabled device. With TOPS GO!, Community Managers can access essential data wherever they are, and can add and update records on demand.
In addition to the rich feature-set that was already available in TOPS GO!, version 2.1 introduces CRM functionality to the mobile management experience. This includes:

Courtesy emails to homeowners and vendors when tickets are assigned to them
Map tagging for a higher degree of accuracy when pinpointing homes on Google Maps
Communication options between homeowners and the community manager (via TOPS Portals)
Image gallery to display history of images associated with an open ticket
Owner account history and current balance tracking
Since it was first released, TOPS GO! has been a favorite tool for many community managers . Customers report it being especially useful for inspections, on-site visits and board meetings.
Daniel Camp of Pelican Association Management performs inspections two days per week using TOPS GO!. Now, Camp is done once he leaves the subdivision. "The first couple times we did drive-throughs with TOPS GO!… it was, 'I can't believe I'm done! This is all I have to do?'" he exclaimed. "The whole system from start to finish, from being in the subdivision taking a picture to the moment the owner is notified… it's so streamlined through this whole process. It's all about more efficiency; and the more communities we can manage, the more money we make.
The TOPS GO! 2.1 upgrade has automatically been applied for all existing TOPS GO! 2.0 clients. Those interested in a demonstration of the capabilities of TOPS GO! 2.1 can request a free guided demo online at http://www.topssoft.com/go
ABOUT TOPS SOFTWARE
TOPS Software, the leader in Condominium and HOA management solutions, is committed to bringing the best products and services to market. TOPS products are used by thousands of organizations to manage millions of homes across the United States. TOPS' flagship product, TOPS Professional Hosted is a complete accounting and property management system that brings all facets of community association management together into one, integrated system in the cloud. Learn more at http://www.topssoft.com.