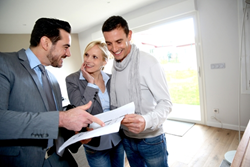 The home mortgage deduction is available to all homeowners
Chicago, IL (PRWEB) October 13, 2015
For individuals worried about the cost of purchasing a home, The Federal Savings Bank wants first-time home buyers to make sure they know some of the financial savings.
Tax deductions can be used to recover money spent on a mortgage throughout the year, lowering a taxable income and reducing the amount one owes. The following are three common tax deductions The Federal Savings Bank compiled that can save a home buyer money:
Home mortgage deduction
The home mortgage deduction is available to all homeowners; it can be especially helpful for first-timers. That's because this deduction allows buyers to write off the interest they paid on a mortgage, and home buyers generally spend the first few years of their mortgage paying off interest, not principal.
The deduction is available for mortgages of less than $1 million that are secured by a qualified home. One can use this deduction on their vacation home as well, but there are a few notable exceptions that apply if renting out a second home or rarely use it.
According to a January 14th, 2014 study from the Congressional Research Service, homeowners were able to use mortgage interest deduction to save an estimated $1,906 in taxes on average in 2012.
Mortgage points deduction
In addition to the interest paid on a mortgage, first-time home buyers can claim any mortgage points they paid when closing on the home. Points are essentially prepaid interest where each $1,000 paid at the start of the mortgage will lower the interest rate by 1 percent.
Mortgage points require more upfront investment, but ultimately save the homebuyer money over time by lowering the rate on the mortgage. Since these points are part of the interest paid, one may be able to deduct them. The IRS has several requirements that will need to be checked to see if one qualifies, including that the point system be an established practice where one lives.
PMI deduction
First-time home buyers who put less than 20 percent down on the home at the time of close will be required to carry private mortgage insurance. Luckily, there is still a tax deduction that allows one to reclaim this cost for 2015. According to the Los Angeles Times, homeowners who made an average of $100,000 and had a mortgage of $200,000 could save $600-$1,000 by claiming their PMI. However, this tax credit will likely expire after this year, having received a last-minute extension in 2014.
The Federal Savings Bank understands how important every purchase or refinance transaction is to help our clients optimize the purchase or refinance of their home.