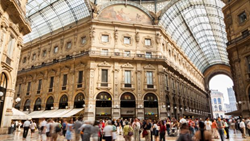 The Boon Edam brand is very well known for its high quality, reliable products and services, and I am pleased to be representing that in Italy," said Mario Cecere, Managing Director, Boon Edam Italia
Lillington, North Carolina and Milan, Italy (PRWEB) October 13, 2015
After a long history in Italy through its distribution partners, the world leading entry expert and provider of sustainable, secure entry services is pleased to announce they have opened a new subsidiary company in Milan, Italy. Royal Boon Edam has a strong foothold in the European market, with subsidiaries in most West European countries. Today, the company announces the opening of their 12th European and 21st global subsidiary: Boon Edam Italia S.r.l.
Boon Edam's presence in Italy shows a commitment to providing the Italian market with the world class entry solutions and premium service they are known for across the globe. "I am very excited to be bringing the Boon Edam brand to the Italian market. Within the construction industry, the brand is very well known for its high quality, reliable products and services, and I am pleased to be representing that in Italy," said Ing. Mario Cecere, Managing Director, Boon Edam Italia S.r.l. The company will offer its full portfolio of products and services along with its valued reputation as the leading supplier of revolving doors and secure entry solutions, all supported by premium service.
Boon Edam celebrates the opening of their Italian subsidiary at SIA Guest in Rimini Fiera, Expo Centre, from 8-10 October 2015. For more information about Boon Edam in Italy visit: http://www.boonedam.it
For more information, please contact
Tracie Thomas
Marketing Manager
T 910 814 8113
E tts(at)boonedam(dot)us
For Media Queries, Please Contact:
Bruce Doneff
Public Relations
T 843 476 3022
E Doneff(at)verizon(dot)net
###
About Royal Boon Edam
With work environments becoming increasingly global and dynamic, the entry has become the centre of activity in and around many buildings. As the importance of the entry as a mobility hotspot increases, the demands we put on managing the passage of people through them grow. Royal Boon Edam is a global market leader in entry solutions. Headquartered in the Netherlands, with 140 years of experience in engineering quality, we have gained extensive expertise in managing the movement of people through office buildings, airports, healthcare facilities, hotels and many other types of buildings. We are focussed on providing an optimal experience for our clients and their clients. By working together with you, our client, we help determine the exact requirements for the mobility hotspot in and around your building and develop a solution that is customised for you in three key areas: sustainability, security and service. You can find more news about Boon Edam on http://www.boonedam.com/newsroom.