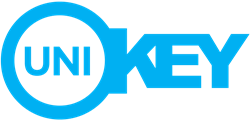 Orlando, FL (PRWEB) October 15, 2015
UniKey continues to add flexibility and convenience for Kevo customers. The updated Kevo mobile app powered by UniKey delivers InHome Locking and Unlocking allowing users to lock and unlock Kevo with their smartphones nearly anywhere in their home if they are within Bluetooth range. Additionally, the new integration with Moto 360 allows users to lock and unlock their Kevo with a simple tap to their Moto 360 watch without having their phone present. A first of its kind, Kevo users can go for a walk or a run without their phone and still be able to open their Kevo lock.
The newly released Kevo Plus powered by UniKey adds remote access capabilities to the Kevo smart lock. With Kevo Plus and the updated Kevo mobile app, Kevo customers can lock and unlock Kevo from their smartphones from anywhere in the world. Kevo Plus is a gateway that plugs into an Internet router with an Ethernet connection, forming a secure wireless interaction between Kevo and the Kevo Plus gateway. The Kevo Plus gateway communicates seamlessly with the Kevo smart lock via Bluetooth Low Energy to initiate the lock or unlock command. Kevo Plus and the new Kevo mobile app adds new flexibility to ensure their locks are locked and unlocked wherever and whenever they need. Kevo users can purchase Kevo Plus on MyKevo.com for a one-time fee of $69.99. The Kevo app powered by UniKey is available for free download from compatible smartphone app marketplaces, such as the Apple App Store or Google Play Store.
About UniKey
UniKey provides a secure mobile key platform for leading companies to "smart-enable" their lock portfolios. In 2013, UniKey partnered with Kwikset Corporation to bring Kevo, the industry's first and best selling smart lock in North America. Additionally, Kevo integrates with Nest™ thermostats where the UniKey-powered Kevo smart lock provides personalized temperature preferences for consumers and businesses, as well as helps to capture greater energy efficiency.
For more information on UniKey, please visit http://www.unikey.com. Follow UniKey on Facebook™, Twitter™, LinkedIn™ and Google+.