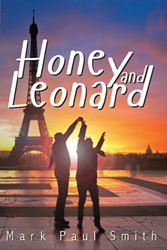 A story that reminds us that it's not just who you love, but how you love.
Charleston, SC (PRWEB) October 15, 2015
Utilizing the expertise of Christopher Matthews Publishing, Mark Paul Smith shares with us "Honey and Leonard". a story that reminds us that it's not just who you love, but how you love.
About the book:
Honey and Leonard fall in love in their seventies. Leonard is in the early stages of Alzheimer's. Honey thinks her love will save him. When high levels of arsenic are found in Leonard's blood and a petition for guardianship is filed by his sole heir, Honey and Leonard flee to France. Their story catches fire as they elude police, private investigators and the international press. They become the Bonnie and Clyde of love until their apparent drowning when they are pushed off the dock in St. Tropez by an overzealous crowd of well-wishers. The book is about the power of love and how it is more important to love than to be loved.
About the Author:
Mark Paul Smith has been a trial attorney for over thirty years. After returning from a life-changing hitchhike in the '70's, chronicled in his first book "The Hitchhike", he became a newspaper reporter for four years and then played in a rock band on Bourbon Street, New Orleans, for three years. He and the artist Jody Hemphill Smith, his wife, own Castle Gallery Fine Art in Fort Wayne, Indiana.
"Honey and Leonard" is exclusively available on Kindle Unlimited for e-readers and print in all other outlets.