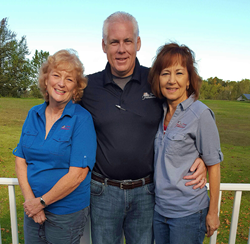 Aberdeen, MD (PRWEB) October 27, 2015
Whether it's handling an estate after the loss of a loved one or coping with an emotional relocation, packing boxes and selling possessions aren't things anyone is particularly excited about doing. Luckily for residents in the Harford County area, there's a new business to handle those tasks – Caring Transitions of Harford County.
Caring Transitions is America's largest resource for managing senior relocations as well as downsizing and estate liquidations. In addition to organizing, packing, decluttering, moving and resettling, Caring Transitions can handle estate sales, liquidations, and preparing homes for market. Caring Transitions of Harford County serves Aberdeen, Abingdon, Bel Air, Fallston, Forest Hill, Joppa, White Marsh and the surrounding areas.
Caring Transitions of Harford County is owned by husband and wife Stephen and Debbie McConnell and sister and brother Mary Harrington and Dave Ernest. The idea to open the business all started when Debbie and Mary, good friends who have worked together, decided it was time to do something that could have a positive impact on families in their community. Both families understand the struggle of clearing a home while trying to grieve – Mary handled her father's final affairs a few years back and Stephen handled his dad's estate last year.
"We did an estate sale for Mary's dad and she got excited about the idea of opening our own business. We finally tried running an estate sale company on our own last year around the holidays and I kept coming across online auctions with Caring Transitions. Launching a company around the holidays didn't work for us, but once we learned more about Caring Transitions, we decided we should give it another shot. Owning a franchise gives us an opportunity to provide these needed services to our community without reinventing the wheel," Stephen said.
Whether the situation is planned or unexpected, Caring Transitions' services are perfect for seniors moving in with family or into a safer living situation, busy families, and people clearing out the home of a loved one who has passed. All of Caring Transitions' services are customizable, so clients only pay for the services they need – whether that means managing the entire move and estate-clearing or just getting someone resettled into their new place.
"Clearing out the house, getting it ready for sale, selling it, getting rid of all the extra stuff that may not have any sentimental or monetary value… it can be extremely challenging. Loss has touched our lives and we want our potential clients to know that we understand the struggle they're facing. We are here to help you get through it," Stephen said.
"And for those who are looking to SHOP estate sales instead of having one, our sales will be full estate liquidations – not yard sales," he added.
Although the ownership team has a background in estate sales, they'll also be providing all of the relocation and resettling services offered by the Caring Transitions franchise. In that capacity, they'll be focusing on the comfort and care of their senior clients and their families.
"Whether you're a senior moving out of the home you've lived in for 30 years or a family coping with the loss of a loved one, this is a vulnerable time in your life. We will do our very best to make sure you are comfortable and that you understand what you're getting. Also, since we're a franchise, you can rest assured that we're backed by a trustworthy, national company with years of experience," Stephen said.
Stephen is a Certified Relocation and Transition Specialist, a designation bestowed by an independent organization that evaluates providers of senior relocation services. Caring Transitions of Harford County is bonded and insured and all employees are background-checked.
For additional information about Caring Transitions and to learn how the company can help you and your family, call (443)313-8001, email SMcConnell(at)CaringTransitions.net or visit http://www.CaringTransitionsHarCo.com.
About Caring Transitions
Caring Transitions, founded in 2006, is the first national franchising concept specializing in senior relocation and transition services. With more than 150 locations throughout the United States all owned and operated by Certified Relocation and Transition Specialists, Caring Transitions provides clients with supportive moves, auctions, rightsizing and transitions. This includes expert advice plus a well-executed transition plan beginning with the initial sorting of personal belongings through packing, shipping and selling of items to the final clearing and cleaning of the property. For more information, visit http://www.caringtransitions.com or visit us on Facebook.