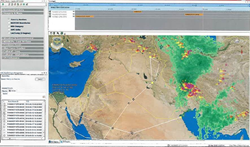 Exton, PA (PRWEB) October 14, 2015
Analytical Graphics, Inc. (AGI), has been awarded a follow-on sole source contract by Air Mobility Command (AMC) to provide a Global Awareness Decision Support (GLADS) solution for the 618th Air Operations Center (AOC), also known as the TACC – Tanker Airlift Control Center.
"We're excited to continue our partnership with AMC and its 618th AOC," Paul Graziani, AGI chief operating officer said. "This year's deployment of the GLADS solution will adopt our browser-based UDOP that will provide enhanced decision support and real-time collaboration for the TACC and its mission partners."
The GLADS solution integrates AGI's enterprise software with existing government off-the-shelf (GOTS) technologies and disparate data sources to monitor and deconflict large volumes of airlift, air-to-air refueling, aeromedical evaluation, humanitarian sorties flown every day.
About AGI
Analytical Graphics, Inc. (AGI) provides commercial software for designing, developing and operating missions within the space and national defense communities.