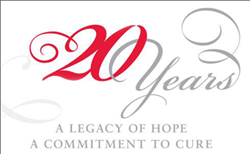 New York, NY (PRWEB) October 13, 2015
The Lymphoma Research Foundation (LRF) – the nation's largest non-profit organization devoted exclusively to funding innovative lymphoma research and serving the lymphoma community through a comprehensive series of education programs, outreach initiatives and patient services –hosted its 20th Annual Gala, A Legacy of Hope; A Commitment to Cure last night at the Mandarin Oriental in New York City. The event honored those who played a role in the success of the patient education and research programs supported by the Foundation over the past two decades, while bringing in over $1.1 million in support of LRF's mission to eradicate lymphoma and serve those touched by this disease.
Over 400 distinguished guests from the lymphoma community came together in celebration of 20 years of innovative lymphoma research and groundbreaking support programs. In particular, the evening's program honored Leigh Olson and Donna Reinbolt as recipients of the 2015 Freundlich Leadership Award; Gilead Sciences, Inc. with the 2015 Corporate Leadership Award, and LRF mainstay Gladys Cook with the 20th Annual Gala Distinguished Service Award. Dr. Morton Coleman of Weill Cornell Medical College presented Cook with the Award in honor of her continued commitment to the cause of eradicating lymphoma and her twenty consecutive years of Gala support.
"Tonight was an opportunity for the lymphoma community to come together, not only to honor the accomplishments of the last twenty years, but also to take a stand for innovative research programs going forward," said Steven J. Prince, Chairman of the LRF Board of Directors. "Gladys Cook, Leigh Olson, Donna Reinbolt, and our partners at Gilead Sciences, Inc. have each played a pivotal role in what we are able to accomplish every day, and their stewardship of our mission over the years has enabled the greater lymphoma community blossom into what it is today."
This year's Raise It For LRF segment, presided over once again by Sotheby's C. Hugh Hildesley, raised nearly $320,000 for LRF's innovative research portfolio and patient support programs in just a matter of minutes. During this unique and exciting portion of the evening, attendees pledged funds for lymphoma research ranging from $50,000 to $500.
"The Lymphoma Research Foundation's Annual Gala provides a forum for the lymphoma community to come together in recognition of our many accomplishments over past year and the amazing commitment of our four honorees," said Meghan Gutierrez, LRF Chief Executive Officer. "The evening's attendees support our mission and the Foundation's ability to meet the needs of the lymphoma community and invest in life-saving research."
For more information and to still support the Lymphoma Research Foundation's Gala, visit lymphoma.org/gala. For more information about lymphoma, including disease-specific resources, visit lymphoma.org.
About the Lymphoma Research Foundation
The Lymphoma Research Foundation (LRF) is the nation's largest non-profit organization devoted to funding innovative research and serving the lymphoma community through a comprehensive series of education programs, outreach initiatives and patient services. To date, LRF has awarded more than $56 million in lymphoma-specific research. For additional information on LRF's research, education and services, visit lymphoma.org.
###