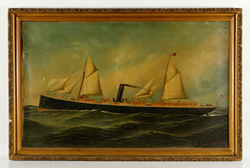 Beverly, Massachusetts (PRWEB) October 14, 2015
Kaminski Auctions presents an Unreserved Estate Sale on October 25th, 2015 featuring an outstanding selection of items from several North Shore and California estates. With a strong track record of selling Antonio Jacobsen's marine paintings, the highlight of the fine art entries is a Jacobsen titled "The Steamer Concho Under Full Sail" oil on canvas estimated at $12,000- $18,000.
Antonio Nicolo Gasparo Jacobsen (November 2, 1850 – February 2, 1921) was born in Copenhagen, Denmark and fled to the United States in 1873 to avoid service in the Franco-Prussian War. He settled in Hoboken, New Jersey and became one of America's most prolific maritime artists, referred to by Jonathan Fairbanks in Forbes magazine as the as the "Audubon of Steam Vessels".
Having studied at the Royal Academy of Design in Copenhagen on his arrival in New York City, he accepted a position with the Old Dominion Steamship Line, painting portraits of vessels on safes, which led him to painting portraits of ships for their owners and captains. He created roughly 6000 ship portraits of vessels in New York Harbor between 1876 and 1919. Collectors and museums prize his paintings because of the accuracy of his work.
Another marine entry is a painting of a ship by the British artist William Howard Yorke (British, 1847-1921), oil on canvas, valued at $3,500.00-$4,500.00.
Also in the fine art category from a Massachusetts estate is a painting by the by Pennsylvania artist Max Weyl (American, 1837-1914), a landscape, oil on canvas of a country scene with a woman planting crops it is estimated at $1,500-$2,500.
Over 100 lots of porcelain are on offer, all to be sold unreserved including such fine names as Herend, Meissen, Majolica, Royal Crown Derby, Royal Worcester, Wedgewood, Connoisseur of Malvern, Cybis, Bronn, Delft, Boehm, Rosenthal, Tiffany & Co., LLadro, Palissy, Royal Worcester, Staffordshire and Theo Fabregé.
The featured lot is an exquisitely hand painted Herend "Babur" covered vase, with an octagonal body, and polychrome scenic paintings, with gold accents estimated at $8,000.00-$12,000.00.
Important furniture on offer includes a New York pier table, circa 1830-1840, of mahogany and rosewood, with ornate mounts, hairy paw feet, carved marble columns, and mirrored back and two Pietra Dur pieces including a cabinet and a very decorative 19th century center table. There is an interesting inlaid India trade sideboard as well.
A Pairpoint reverse painted lamp, two Erté Romain de Tirtoff (Russian-French, 1892-1990), bronzes, an enameled French clock and several important pieces of silver Judaic items including two Torah pointers, a Russian silver filigree egg and trinket box.
A large selection of Chinese porcelain and Asian items of which a set of six blue and white Chinese later Qing Dynasty teacups, decorated with a peony flower pattern, and Kangxi mark on the base, feature prominently as well as several Chinese Famille Rose and Rose Mandarin lots round out the highlights of this unreserved sale.
Preview hours are Thursday-Saturday, October22-24th, 10:00am-5:00pm and day of sale beginning at 8:00am at the Kaminski auction gallery, 117 Elliott Street, Rt. 62, Beverly, Massachusetts 01915.
For more information and go to http://www.kaminskiauctions.com and sign up to bid with KaminskiLIVE.