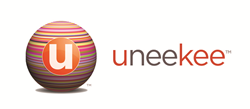 "uneekee's business model has an eye on sustainability - eco friendly fabrics, gentler inks and zero waste due to no excess inventory or scrap" - Kara Parsons, CEO and founder of uneekee.com
San Francisco, CA (PRWEB) October 15, 2015
uneekee, located on the web at http://www.uneekee.com, has partnered with Patterndesigns.com in order to further solidify its role as the premiere online shopping destination for custom, print-on-demand home décor. Bolstered by Pattern Designs' robust catalog of prints and patterns, uneekee proudly offers the web's most engaging and comprehensive selection of customized shower curtains, tablecloths, lazy susans, and almost everything else consumers crave. uneekee's product line includes everything from pillows to placements, bath mats to beanie caps, as well as yoga leggings and yoga mats for the mindful.
"If you can't find it on uneekee.com, it probably doesn't exist," says CEO and Founder, Kara Parsons. "We searched long and hard for the perfect partner with the most diverse, sophisticated, and extensive library of appealing patterns and prints that can be sized and colorized to satisfy the most precise and discerning tastes—and found that with our partner at patterndesigns.com."
Unlike many print-on-demand sites, which rely solely and exclusively on third-party artists for art and content, uneekee complements its extensive library of artwork licensed from its vibrant artist community with PatternDesigns.com's exciting collection. The result is the web's most diverse catalog of customizable content for fabrics and home furnishings. Customers can select from an extensive collection of searchable prints and patterns in a wide variety of categories, including stripes, chevrons, florals, animals, abstracts, and geometrics. New genres are added regularly. Best of all, the designs are available in a huge range of colors. If customers shopping for the perfect home décor item want their turtles pink and their lobsters purple, uneekee delivers.
Perhaps most importantly, uneekee was built from the ground up with an eye for sustainability. "As a parent of three boys," Parsons says, "it was important to me to combine personalization with the crucial need to protect the future of the environment as much as one person or entity can." For example, uneekee is not as reliant on polyester as many other fabrics providers are. Instead, uneekee focuses on improved ground fabrics, including a new organic based cotton bedding line that is printed with gentler inks and printing methods that do not sacrifice durability or color brilliance.
Not only does uneekee use eco-friendly ground fabrics and inks, but the company helps reduce waste by eliminating one of the biggest contributors to landfill issues—excess inventory. Rather than sell in bulk, uneekee manufactures only the amount of product that consumers and distributors request. Because uneekee holds no inventory, it creates zero waste.
About uneekee:
uneekee, Inc. launched in 2013 by Kara Parsons, a retail e-commerce and print-on-demand aficionado with over 15 years in the online retail and print-on-demand field. The site started with a handful of artists, a curated collection of prints, and a limited product line. The company is currently expanding its core home décor line with upholstered goods and a wider range of bed and bath essentials. uneekee's accessories line also expanded to include yoga mats and leggings, as well as custom pet bowls and pet pillows. The company is privately funded and headquartered in San Francisco.
***