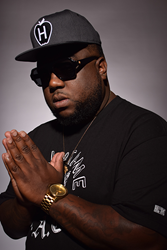 "UH OH"
Dallas, Texas (PRWEB) October 20, 2015
Fat Pimp's name has been a fixture in the Texas rap scene and beyond ever since "Rack Daddy" hit the Billboard charts in 2008. His latest single, "UH OH" has amassed over 64,000 plays on Soundcloud not to mention the frequent rotation on MTV Jams of his last music video "Hurt They Feelings."
The visual for "UH OH" is Fat Pimp's first release under his new label Dirty Water Music based out of California. Themed after the 90's classic movie Phat Beach staring Coolio, Fat Pimp portrays the flirtations love interest of several women as he enjoys a beautiful day at the beach.
In the first 24 hours of "UH OH's" release, viewership reached over 1 million views on WorldStarHipHop while also receiving media coverage from The Source Magazine, Hip Hop Since 1987, Hip Hop Weekly, and many more.
Infatuated by the silhouette of a beautiful woman while he was on a date with another, Fat Pimp became inspired to write about the "oops I'm staring" affect the woman had on his demeanor making him say OH OH.
"UH OH" signifies the beginning of a new chapter in the Fat Pimp story, transitioning him from the artist who defined the Dallas club scene with his music to a mature and accomplished pioneer of southern rap ready to acquaint himself with the industry at large.