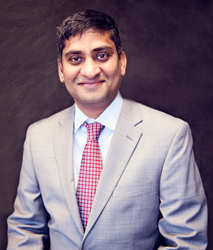 Birmingham, Ala. (PRWEB) October 15, 2015
PharmaPoint is excited to announce the promotion of Sai Kand to Senior Vice President of Software Engineering. In this role, Kand provides executive leadership and oversight for the company's information technology applications, infrastructure and services in support of the organization's strategic business needs.
"Sai has done an outstanding job of building a solid development team and delivering an industry-changing product in XchangePoint," said Mike Plaia, PharmaPoint CEO. "He embodies what a team player mentality looks like and stands for what our company represents - a true commitment to our clients and a burning desire to continue to be the best."
With more than 17 years of experience in the information technology industry, Kand specializes in healthcare domain IT. Prior to joining PharmaPoint, he served as director of software engineering at Source Medical, the largest provider of therapy and ambulatory surgery center software solutions and billing services for outpatient facilities. Software systems developed either by Kand, or under his direction, are operating in thousands of workplaces throughout the world.
"I am proud to be an integral member of the PharmaPoint team," said Kand. "The ground-breaking results we are achieving with XchangePoint, our target population health management system, are so rewarding. Communication, state-of-the-art technology and quantifiable results are the additional elements of patient care that every quality healthcare professional now requires."
Kand holds a Bachelor of Science degree in computer science and a Master of Science degree in computer application from Bharathidasan University in India.
About PharmaPoint
PharmaPoint is an innovative, technology-enabled pharmacy management company, providing best-of-class solutions for hospitals, health systems and physician groups. PharmaPoint is focused on completing the care continuum, thereby improving patient health and satisfaction, reducing healthcare costs and providing a source of ancillary income. Recognized as one of the most innovative, inspiring and fastest growing private companies for 2013, 2014 and 2015 by Inc. magazine, PharmaPoint is currently managing pharmacies across the United States. PharmaPoint is headquartered in Birmingham, Alabama. For more information about our company, you can visit http://www.pharmapoint.com.
####