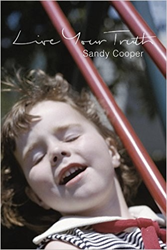 "writing the book provided a purpose to move forward"?
New York, NY (PRWEB) December 08, 2015
In the months leading up to the recent release of "Life Your Truth," veteran business executive Sandy Cooper fought hard for the role of her lifetime. An incredibly personal and emotional narrative was written from what most think of as an impersonal device, an iPhone.
Live Your Truth by Sandy Cooper is inevitably everyone's story. It is the story of life. As a debutant author Sandy has shown exceptional personality in detailing the psychological conflict of a woman who by her own words is hit by the tsunamis of life that either makes one give up or find strength.
The timeline of the fiction initiates at Sandy's fiftieth birthday. Fifty is by all means a milestone of life, and what a milestone it was. Sandy encounters three unexpected happenings that are enough to simply bend down somebody. Her professional career got a jolt, her personal relation got a beating, and last but not the least she has an unexpected announcement from her mother.
Sandy has an inimitable style that creates a sense of suspense at the very onset and the reader is forced to rethink if the book is a thriller or an autobiography. Yes, it's a thriller alright, the story takes off right from the beginning.
Aside from the remarkable story, the process that the story was written is also remarkable. While accompanying her father to numerous doctor's appointments, Cooper spent much of her time in physician waiting rooms. With so much spare time to reflect on her personal trials and triumphs, she began to seek an outlet for self-expression.
"While I was sitting in the doctor's office waiting for my dad, I started jotting down my thoughts in the notes app of my iPhone. I wanted to tune out from the intensity of the situation, so I started writing bullet points of thoughts. The process kept me preoccupied while my dad was going through his numerous operations and created an invisible shield to help me cope with the stress of the situation."
"Once I returned home, I reviewed my notes and began filling in the story on my computer just to occupy myself. The bullet points turned into sentences, the sentences turned into paragraphs, and the paragraphs turned into a book."
The resulting 102-page, 5 star book, "Live Your Truth," is now available on Amazon in paperback edition and for Kindle.
About Sandy Cooper
Sandy Cooper is a seasoned executive. She had a diversified executive career innovating companies within fast paced industries. Sandy has now shifted focus and is a motivational speaker and advisor for guiding families and individuals through the financial, emotional and logistical complexities associated with caregiving. Sandy resides in New York. This is her first book.
Sandy can be reached at
917-207-2908
SandyCooper1221(at) gmail.com