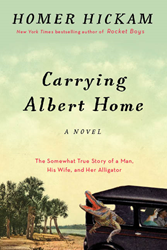 What a delightful somewhat true story! A nice introduction for a new Homer Hickam fan.
New York, NY (PRWEB) October 14, 2015
Homer Hickam's highly anticipated new book "Carrying Albert Home," the long awaited prequel to his award-winning memoir Rocket Boys (which sold over a million copies in the U.S. and was the basis of the hit movie October Sky), has been released by William Morrow Hardcover, an imprint of HarperCollins Publishers. At its core, "Carrying Albert Home" is the enchanting story of a classic love triangle. Homer loves Elsie. Elsie loves Albert. Simple. Except there's a difference to this love triangle, a rather large, scaly one. Albert is an alligator.
"Carrying Albert Home" is already an award-winning book. It has fifteen International publishers, will be a Book-of-the-Month Club selection in December, will be a Reader's Digest condensed book, has won the Okra Award from the Southern Independent Booksellers Association, is an "Indie Next Pick," and is in the "Holiday Preview" brochure as a Featured Alternate Book of The Literary Guild, Book-of-the-Month, Doubleday Book Club and Bookburst.
In "Carrying Albert Home," Elsie Lavender (the mother of the author) and Homer Hickam (the father of the author) were high school classmates in the West Virginia coalfields, graduating just as the Great Depression began. When Homer asked Elsie to marry him, she instead headed to Orlando where she had a brief romance with the pre-fame actor Buddy Ebsen (yes, that Buddy Ebsen). But when Buddy left her for New York to become a star, Elsie's dreams of a life with him were crushed and eventually she found herself back in the coalfields, married to Homer and living a life she wasn't sure was right for her. Over time she decided that she was meant to be something much more than a coal miner's wife -- although she wasn't sure what that was.
Unfulfilled, Elsie was reminded of her carefree days with Buddy every day because of his unusual wedding gift: an alligator named Albert. Albert was raised in the only bathroom in the house and, although otherwise lovable, would often scare Homer by grabbing his pants or chasing him down the stairs and into the yard. At last Homer gave Elsie an ultimatum: "Me or that alligator!" After giving it some thought, Elsie concluded there was only one thing to do: carry Albert home to Florida.
Based on individual stories and family legends Homer's parents told him growing up, but polished and shaped into a single narrative, "Carrying Albert Home" is the funny, sweet, and sometimes tragic tale of a young couple and a special alligator (and rooster!) on a crazy 1000-mile adventure. Told with the warmth and down-home charm that made Rocket Boys a beloved bestseller and American classic, Homer Hickam's rollicking tale is a testament to that strange and marvelous emotion we inadequately call love.
About the Author:
Homer Hickam (also known as Homer H. Hickam, Jr.) is the bestselling and award-winning author of many books, including the #1 New York Times memoir Rocket Boys, which was adapted into the popular film October Sky. A writer since grade school, he has also been a coal miner, Vietnam combat veteran, scuba instructor, paleontologist, and NASA engineer. He splits his time between Alabama and the Virgin Islands.
Upcoming appearances include:

October 15 at 6pm - Page & Palette/ Fairhope, AL
October 17 at 3pm - Lanier Technical College (Gwinnett County Library) / Atlanta, GA
October 18 at 3pm - Norcoss Cultural Arts & Community Ctr. (Gwinnett County Library) / Atlanta, GA
October 23 and 24 - West Virginia Book Festival / Charleston WV
October 25 - Hearthside Books / Bluefield, WV
October 29 - Decatur Public Library / Decatur, AL
November 2 at 7pm - Andersons / Chicago, IL
November 10 - Hernando, MS (Memphis, TN)
November 21 - Miami Book Festival / Miami, FL
November 22 - Kissimmee, FL (Orlando, FL)
Early praise for "Carrying Albert Home"
"If James Joyce can devote an entire novel to one day in the life of the people of Dublin, why can't Homer Hickam devote a novel to the delivery of Albert the alligator to Florida? Especially when that journey treats readers to labor strikes, car chases, hijinks on the high seas, Hollywood movies and a fateful hurricane—not to mention cameo appearances by literary competitors John Steinbeck and Ernest Hemingway. Add to this a rooster perched imperturbably on Albert's head, and you have the makings of an intentionally improbable, bizarre trip through Southern Americana that is a tall tale blend of fact and fiction."
-- Bookpage
"I loved Homer Hickman's new book "Carrying Albert Home". A road trip not soon forgotten! I loved the madcap adventures that Elsie and Homer fell into along the way. There was also the bittersweet and tender reawakening of their relationship as the trip progressed. I think this one is a winner ~ I couldn't put it down."
-- Lake Forest Bookstore, Lake Forest IL
"What a delightful somewhat true story! A nice introduction for a new Homer Hickam fan. The mix of humor, historical and regional color, and outrageous tales carried the book, for a quick read."
-- Janet Blevins, Knight Equestrian Books
About the book:
CARRYING ALBERT HOME: A Novel
The Somewhat True Story of a Man, His Wife, and her Alligator By Homer Hickam
William Morrow/An Imprint of HarperCollins Publishers
Publication Date: October 13, 2015
ISBN: 978-0062325891
$25.99 US/$31.99 Canada
*Available in E-Book* ISBN: 978-0062325914