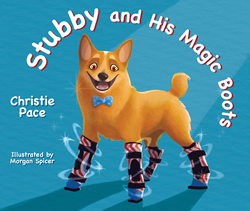 Dallas, Texas (PRWEB) October 15, 2015
As seen on "Good Morning America" and with over 1.6 million views on YouTube, Naki'o the "Bionic Dog" was the world's first dog fitted with four prosthetic legs. In her debut book, Stubby and His Magic Boots (Brown Books Kids), Naki'o's owner Christie Pace shares Naki'o's incredible story with the hope that it inspires children and adults alike to look past a person or animal's disability and offer them kindness and acceptance.
"With a second chance and a set of boots, Stubby goes from underdog to wonder dog," hails Mark Robinson, president of HandicappedPets.com. "This magical tale will inspire children to demonstrate compassion towards the differently abled pets and people in their lives."
Accompanied by the beautiful illustrations of Morgan Spicer, Pace introduces readers to Stubby — the fictional character based on Naki'o. Rescued as a puppy from an abandoned home during a harsh Nebraska winter, Stubby suffers from severe frostbite, loses all his toes and realizes he is different from the other dogs at the rescue shelter.
Pace's charming story brings the miracle of Naki'o's new prosthetic legs to life through Stubby and His Magic Boots. Stubby's new owner, Spirit, realizes that the other dogs tease him and won't play with Stubby because he can't run like they can. Spirit finds help at a place called Magic Boots, where he is fitted with "magic boots" uniquely designed just for him.
"This is a heartfelt book for all ages," praises Amy Kaufmann, owner and founder of OrthoPets V-OP Clinic. "This is a story about perseverance and how to overcome obstacles in our lives, just as Stubby did. Reading this book will help restore your faith in humanity!"
Christie's love of animals and children began as a veterinary technician while in high school. After nine years of working in small animal practices, she was inspired by Naki'o's story to begin helping other homeless animals with disabilities, ultimately founding the nonprofit Nakio's Underdog Rescue in 2011. "I decided to share Naki'o's story in Stubby and His Magic Boots to show how animals with disabilities can love life with the aid of mobility devices such as Naki'o's prosthetics. If we teach children compassion, kindness and unconditional love for all, disabled or not, we could really make an impact in the world," explained Pace. Christie's mission in life is to help the underdogs and show the public how these precious animals can live beyond their disabilities.
To learn more about Naki'o visit http://www.NakiosUnderdogRescue.org.