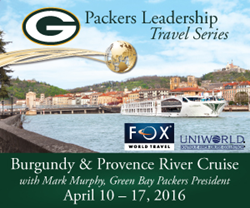 Oshkosh, Wisconsin (PRWEB) October 14, 2015
The Green Bay Packers and Fox World Travel are teaming up to offer the Packers Leadership Travel Series, the ultimate Packers travel experience featuring present and past team leaders.
Beginning in 2016, fans can participate in trips highlighted by premium accommodations, special events and vibrant destinations. The tours are aimed to be both inspirational and educational, with leadership insight from Packers executives and leaders, such as former Packers general manager and Pro Football Hall of Famer Ron Wolf.
The first trip, an eight-day river cruise through the heart of southern France, will feature Packers President/CEO Mark Murphy. In addition to providing an elite river cruise experience with incomparable wines, art, cuisine and UNESCO World Heritage Sites, travelers will be able to socialize and participate in events with Murphy.
"I'm really excited about the cruise, and look forward to getting to know this beautiful, historic part of Europe," said Packers President/CEO Mark Murphy. "The setting will be a unique opportunity to connect with Packers fans and share some of my experiences with the organization."
The Uniworld Boutique River Cruise Collection sailing aboard the 159-passenger S.S. Catherine will depart the week of April 10, 2016, and will sail from Avignon to Lyon through France's Burgundy and Provence region on the Rhone and Saone rivers. Picturesque landscapes, lively markets, medieval wonders and the welcoming Mediterranean coast highlight this exclusive travel experience.
"We're so excited to have the opportunity to work with the Green Bay Packers to develop such a unique travel series showcasing some of the world's most spectacular destinations and to share leadership skills that have made the Green Bay Packers one of the world's most renowned sports franchises," said Brian Hurley, Vice President & General Manager-Vacation Travel Division for Fox World Travel.
"We are delighted to be part of such an innovative program, working with two first class organizations: The Green Bay Packers with an incredible and loyal fan base and a reputation for excellence, and Fox World Travel, a partner for many years who deliver exceptional value and travel experiences to their clients. Uniworld looks forward to welcoming the Green Bay Packers fans onboard the S.S. Catherine", stated Guy Young, President of Uniworld Boutique River Cruise Collection.
More Packers Leadership Travel Series trips featuring Packers executives and leaders will be announced soon. For more information about the river cruise and to sign up to be the first to know when new trips are announced, please visit http://www.gofox.com/travel/packers.
About Fox World Travel, Inc.:
Fox World Travel was founded in 1960 and is ranked as a top travel agency in the United States, according to the Business Travel Survey in Business Travel News. Fox World Travel owns and operates 11 retail travel locations throughout Wisconsin as well as a full service corporate travel division and Premier Meetings and Incentives in Oshkosh and Fox World Travel School. Fox World Travel is the largest vacation travel agency in Wisconsin. Fox World Travel's corporate travel division is a leading provider of travel management solutions, serving travelers as they navigate the globe while guiding organizations toward successful policies, compliance and financial advantages in their domestic and global travel programs. Visit Fox World Travel online at http://www.GoFox.com
# # #
Media Contacts:
Brian Hurley
Fox World Travel
920/236-8022 ext. 1305
bhurley(at)gofox.com
Katie Hermsen
Green Bay Packers
920/569-7218
hermsenk(at)packers.com