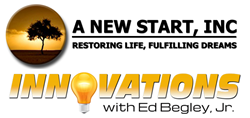 Palm Springs, FL (PRWEB) October 14, 2015
A New Start, Inc. announced today that it will be featured in an upcoming episode of Innovations, airing later this year via the Discovery Channel.
In this segment of Innovations viewers will learn about A New Start, which offers treatment based on the philosophy that Substance Use Disorder is a chronic, progressive, devastating and potentially fatal disease. A New Start believes that substance use disorder is a disease, which affects a person physically, emotionally, and psychologically, impacting family, work, school life, and other relationships.
"A New Start provides Intensive outpatient services to address substance use disorder and correlating issues, said Michelle Graham, LMHC, CAP, ICADC, EMDR, Clinical Director of A New Start, Inc. "We are beyond excited to join the innovations team and share our vision and treatment methods to address addiction. We approach treatment for addiction through a dynamic method addressing the whole person - Mind, Spirit, and Body.
"At a New Start we believe treatment for addiction should include extraordinary measures to obtain extraordinary results. We believe in healing, miracles, and in restoring life and fulfilling dreams."
"The success you achieve through treatment depends on your effort and commitment," said Jake Meiteles, Producer for the series. "We look forward to enlightening viewers on how attending treatment at A New Start, Inc. can bring about change and recovery."
About A New Start:
A New Start's highly trained staff addresses substance use disorder utilizing an integrated, multidisciplinary model addressing the whole person. Staff is keenly aware that in order to appropriately treat addiction and obtain lasting success in treatment and sobriety, all components of addiction must be addressed simultaneously. Treatment of all co-occurring psychological, emotional, behavioral and familial issues is vital to long-term recovery. A New Start believes in individualized personal clinical care given with honor, dignity, and respect to clients and their families. Additionally, A New Start specializes in process addictions related to, body image issues, gambling, anger resolution, and co-dependency. For more information, visit: http://www.anewstartincfl.com
About Innovations and DMG Productions:
Innovations, hosted by award winning actor Ed Begley, Jr., is an information-based series geared toward educating the public on the latest breakthroughs in all areas of society. Featuring practical solutions and important issues facing consumers and professionals alike, Innovations focuses on cutting-edge advancements in everything from health and wellness to global business, renewable energy, and more.
DMG Productions (responsible for creating the Innovations show) includes personnel specialized in various fields from agriculture to medicine, independent films to regional news and more. Field producers work closely with experts in the field to develop stories. This powerful force enables DMG to consistently produce commercial-free, educational programming that both viewers and networks depend on.
For more information visit: http://www.InnovationsTelevision.com or contact Jake Meiteles at: (866) 496-4065 x 830 or via email at: Jake(at)InnovationsTelevision(dot)com.