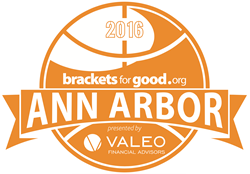 The Brackets For Good team is excited to bring the only sport for nonprofits to the Ann Arbor area
ANN ARBOR, Mich. (PRWEB) October 15, 2015
Calling all Ann Arbor nonprofits: Charitable organization Brackets For Good is challenging your organization to some friendly competition and a chance to win $10,000!
Indianapolis-based Brackets For Good hosts online, bracket-style fundraising tournaments every March in philanthropic communities around the United States. Participating nonprofit organizations compete to out-fundraise their opponents, earn increased exposure, and have a chance to win $10,000 from generous corporate sponsors. Further, participating nonprofits keep 100 percent of donations received during tournament play.
Since Brackets For Good's kickoff contest in 2012, it has raised more than $1.3 million for local charities. Due to the overwhelming success, the tournaments have since expanded from Indianapolis to Louisville and will break into several other markets in 2016, including Ann Arbor, St. Louis, and Minneapolis
"The Brackets For Good team is excited to bring the only sport for nonprofits to the Ann Arbor area," co-founder Matt McIntyre said. "The Ann Arbor area is known for its competitive nature as well as its generosity when it comes to supporting the community, so fundraising madness is a perfect fit."
The Ann Arbor area's competitiveness and generosity, paired with the support of the strong local business community – Valeo Financial Advisors, Zingerman's Community of Businesses and philanthropic community, Ann Arbor Area Community Foundation, United Way of Washtenaw County, and James A. & Faith Knight Foundation – is estimated to be a recipe for success.
Past Brackets For Good events have been exclusively sponsored by for-profit companies, making the 2016 contest in the Ann Arbor area stand out as the only tournament to date supported by the local philanthropic community.
According to title sponsor Valeo Financial Advisors co-founder John Wortman, the company was motivated to bring Brackets for Good along in its expansion to the Ann Arbor market to ensure its new branch would be ingrained with the same focus of philanthropy as its home base in Indianapolis.
For more information, visit https://annarbor.bfg.org/.
About Brackets For Good
Brackets For Good is an Indianapolis, IN based 501(c)3 charitable organization focused on activating new donors, and increasing awareness for other nonprofit organizations through competitive, online fundraising at no cost.
# # #
For interview requests, contact:
Jaymie Shook
317.602.7137 ext. 2066
jshook(at)bohlsengroup(dot)com