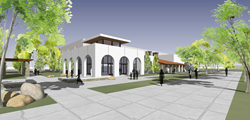 The success of this financing is ultimately the result of the hard work the Santa Rosa Academy team puts in every day to ensure the academic success of their students and improve the financial strength of the organization...
Chicago, IL (PRWEB) October 13, 2015
Ziegler, a specialty investment bank, is pleased to announce the successful closing of the $10,420,000 fixed-rate financing for Santa Rosa Academy. Santa Rosa Academy is a public charter school serving grades K-12 that was established in 2005. Chartered by the Menifee Union School District, Santa Rosa serves students in Riverside County with site based, home study and combination home study/on-site programs with accreditation approved by the Schools Commission of the Western Association of Schools and Colleges.
Ziegler underwrote Santa Rosa's Series 2012 issue to finance construction of the school's K-12 campus in Menifee, California. The school moved into the new facilities in fall 2013, and currently enrolls approximately 1,600 students. Students are enrolled in three programs tracks: blue track, the traditional classroom based program; white track, a hybrid program that combines independent study with two days of classroom based instruction per week; and red track, an independent study program with the option of some classroom based instruction. The school allows all students to participate in extra-curricular activities on site, including athletics. To support its growing athletics offerings, the school planned a Phase 2 project that would add a gymnasium and baseball field.
The Series 2015 Bonds were issued as additional bonds under the Series 2012 indenture by the California Municipal Finance Authority. In addition to the bond proceeds, the school contributed approximately $1,800,000 of equity to the Phase 2 project, a portion of which was used to fund costs of issuance, eliminating the need for a taxable "tail." The 2015 project includes a baseball field and related field houses, restroom facilities and concession areas, as well as a 31,000 sq. ft. gymnasium. Although the project does not include additional classroom space, it will free up classroom space currently used for physical education and will help drive demand for the independent study programs.
"From the standpoint of both the Chief Business Officer of Santa Rosa Academy and a parent of students going to the school, I am appreciative of Ziegler's efforts to make this bond financing happen. Ultimately, this financing helps SRA to enhance our education program and continue its growth with the extra room that the construction will provide while, at the same time, enhancing our physical education and sports programs. Ziegler's coordination of the process helped ensure a smooth financing process that met our financing goals and timeline," stated David Graves, CPA.
Will Fossel, Vice President in Ziegler's charter school practice, commented, "The success of this financing is ultimately the result of the hard work the Santa Rosa Academy team puts in every day to ensure the academic success of their students and improve the financial strength of the organization. We at Ziegler are honored to have the opportunity to continue to be a partner to Santa Rosa."
With over 100 years of raising capital for communities, Ziegler is a recognized leader in the educational sector throughout the U.S. We continue that tradition with our dedicated services to the national charter school market. Ziegler provides its charter school clients with capital for financing new construction, refinancing existing debt or advising on future developments. As one of the few financial services firms in the country that has a dedicated team of charter school finance professionals, Ziegler can offer unbiased advice to help advance your mission.
For further information on the structure and use of this issue, please see the Official Statement located on the Electronic Municipal Market Access system's Document Archive.
For more information about Ziegler, please visit us at http://www.Ziegler.com.
About Ziegler:
The Ziegler Companies, Inc., together with its affiliates (Ziegler), is a privately held, specialty investment bank with unique expertise in complex credit structures and advisory services. Nationally, Ziegler is ranked as one of the leading investment banking firms in its specialty sectors of healthcare, senior living, religion, and education, as well as general municipal and structured finance. Headquartered in Chicago, IL with regional and branch offices throughout the U.S., Ziegler provides its clients with capital raising, corporate finance, FHA/HUD, strategic advisory services and research. Ziegler serves institutional and individual investors through its wealth management and capital markets distribution channels.
Certain comments in this news release represent forward-looking statements made pursuant to the provisions of the Private Securities Litigation Reform Act of 1995. This client's experience may not be representative of the experience of other clients, nor is it indicative of future performance or success. The forward-looking statements are subject to a number of risks and uncertainties, in particular, the overall financial health of the securities industry, the strength of the healthcare sector of the U.S. economy and the municipal securities marketplace, the ability of the Company to underwrite and distribute securities, the market value of mutual fund portfolios and separate account portfolios advised by the Company, the volume of sales by its retail brokers, the outcome of pending litigation, and the ability to attract and retain qualified employees.
# # #